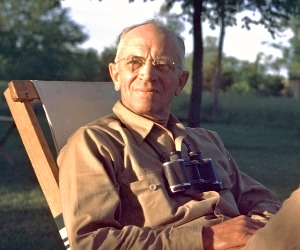 Aldo Leopold was a naturalist, believing that people should understand the importance of the environment. He devoted his life to deeply understand the natural world.
Leopold was born in Iowa in 1887. From a young age, his love for nature began as his family would go to Marquette Island in northern Michigan for six weeks each summer. He would explore the different types of wildlife and vegetation on the island. After years of growing admiration for nature in 1909, Leopold received a Masters of Forestry degree from Yale University. Then he joined the United States forest service, where he worked in Arizona and New Mexico. Around the same time, Leopold took on a leadership role in soil conservation and wildlife management. This lead to eventually becoming the associate director of the Forest Products Laboratory in Madison. He quit four years later to become an independent researcher. In 1933, Leopold was appointed professor of Game Management in the Agricultural Economics Department at the University of Wisconsin-Madison where he taught and directed research at the university's Arboretum.
While all of this took place, Leopold also worked with farmers to continue conservation. He deeply improved the conservationist movement when he served six years on the Wisconsin Conservation Commission. Here he helped to design and apply policies in Wisconsin. Through his efforts, he established the ecological roots of forestry and wildlife ecology. There were conflicting beliefs present at the time. People believed that land should completely serve humans or, alternatively stay as it is. Leopold, on the other hand, believed that people and the natural world should learn how to coexist while respecting both sides. Leopold made it clear that small or insignificant changes made in nature, by humans, could have unforeseen consequences. He wrote, "That land is a community is the basic concept of ecology, but that land is to be loved and respected."
Eventually Leopold also wrote a book, A Sand County Almanac, which was published in 1949. Although the book was full of many short sketches describing a year at his shack on the Wisconsin River near Baraboo, it is famous for so much more. The Almanac inspired others to appreciate the world around them and use their power sensibly without destroying it. Leopold believed that proper management of our environment required a deeper and more meaningful understanding of how our world works at its most natural state.
Thus, Through all of Aldo Leopold's efforts, he helped many to see the beauty in the world and to educate everyone of how best to preserve and embrace the nature around us.
[Source: Wisconsin History Highlights]