Big Cat Science

Efforts Continue to Preserve Habitat for the Last of the Bengal Tigers

by Helen Zhang, age 12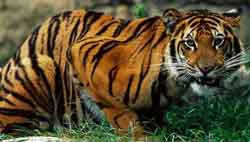 Bengal tigers, also known as Indian tigers, are the most well-known tigers in the world. With 1,850 left in the wild, the Bengal tiger has the largest population of all remaining tiger subspecies. However, rapid human expansion and urbanization is forcing this tiger out of its native habitat.
Bengal tigers can weigh as much as 259 kilograms (569.8 lbs) and can grow to nearly three meters long. About 1,400 tigers of the remaining 1,850 live in India.
These big cats make their homes within a variety of habitats in south Asia. The dry and wet deciduous forests of south central India, the Sal forests of the Himalayan foothills, and the Terai-Duar grasslands on the border between Nepal and India all contain Bengal tigers.
Other populations have been identified in Bangladesh, Myanmar, Bhutan, and China. The Sundarban mangroves are the only mangrove forests where these tigers are found. However, the Sundarbans are being jeopardized by rising sea levels.
In the 1960's, tiger reserves helped strengthen declining numbers. But in recent years, poaching inside these preserves has again put the Bengal tiger at risk.
In 2002 the World Wildlife Fund (WWF), along with other conservationist groups and Indian wildlife authorities, launched a major project to protect these tigers. The project is based within the various landscapes where the remaining tigers live. So far, seven priority landscapes have been identified that will benefit the long-term recovery of wild Bengal tigers.
In these environments, WWF and their partners work to reduce, and in some cases remove, threats to tigers in the wild. They're working hard at restoring the natural habitat and strengthening anti-poaching efforts.

[Sources: wwf.panda.org; The Encyclopedia of Animals]