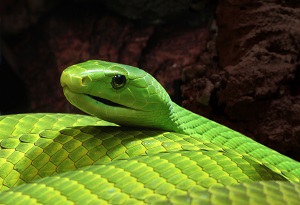 The green mamba is a stealthy snake found in sub-Saharan Africa. Although it is not as menacing as an anaconda, messing with this slippery serpent could cost you your life. Green mambas can grow to be eight feet long and live up to 15 years. The green mamba's head is in the ominous shape of a coffin. This is because of the bulges in the back section of its eyes, where the snakes' large venom glands are located. If one dares to scare the green mamba, it will attack and sink its fangs into his skin.
The green mamba's tongue is super sensitive and collects scent particles in the air; this enables it to find its prey hidden in the vegetation. Enlarged belly scales help the snake hold on to trees while it slides along the branches. Snakes have to shed their old, dried skin periodically in order to grow new skin from underneath.
These ruthless killers live mostly in rainforests. Sometimes green mambas also reside on farm plantations that grow citrus fruits, cashew nuts, and mangos. Their prey usually consists of lizards, birds, rodents, and maybe even bats, too.
During breeding season, male green mambas fight for a female by taking part in ritual combat "dances." Two or three male snakes wrap their bodies together and then strike at each other with their bodies upright. The best dancer wins the female, and then the other two males leave.
The green mamba is a very dangerous and sneaky animal. If you go to Africa, you should be careful around this snake!
[Source: Snakes and Reptiles: Scariest Cold-Blooded Creatures on Earth]