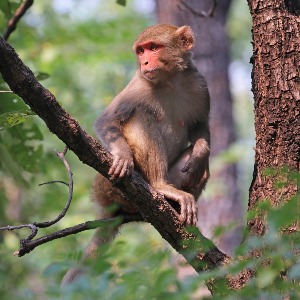 Cayo Santiago is a 38-acre tropical island off the coast of Puerto Rico. Home to about 1,500 rhesus monkeys, the island is known as "Monkey Island.'' Scientists have a field station on the island where they keep records of their observations about generations of monkeys living on Monkey Island. Scientists themselves live on a different island and take 15-minute boat trips every day to get to the island. Information about the monkeys' lives, deaths, genes, hormones, treatment of their children, and their interactions is collected by the scientists.
In October of 2017, Hurricane Maria hit Puerto Rico and Monkey Island. The field station was destroyed along with the homes of many research staff members. Researchers traveled around the island to look for the monkeys, and found surprisingly, that many were alive. The research also found that the hurricane had destroyed the vegetation that the monkeys usually eat, so the monkeys had to rely on the aid of humans. The universities that frequently support the research on Monkey Island started helping with recovery work. The University of Michigan created two GoFundMe sites, raising over $45,000 to help the research staff and local population and another $10,000 to help the monkeys.
While people have questioned the use of recovery funds to help monkeys instead of people, caring for the monkeys provides the livelihood for the research staff who live near Monkey Island. These staffers spend their mornings rebuilding the island's research stations, and in the afternoons, their homes in Punta Santiago. The scientists are aiming to help both the monkeys and the people living on the Island.
Even though Hurricane Maria was a disaster, the monkeys survived. Raising money for both the monkeys and Puerto Rico's cities will provide long-term benefits by preserving Puerto Rico's scientific treasures.
[Source: Associated Press]