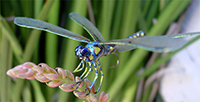 Known for their speed, dragonflies and peregrine falcons are animals that have learned to adapt to the world that surrounds them.
Peregrine falcons can live practically anywhere, but they prefer wide-open spaces. They can dive at speeds reaching over 200 miles per hour, thus making them the fastest animals on earth. These unique birds also have a third, clear eyelid called the nictitating membrane that protects the eye from foreign objects. Little bony "baffles," another of these birds' adaptations, regulate air intake to protect their airways from damage during fast dives.
Unlike peregrine falcons, dragonflies usually live near ponds or open bodies of water. They can fly straight up and down or forwards and backwards at speeds near 30 miles per hour. Another dragonfly adaptation is their super eyes, which can detect movements that are only 1/300th of a second apart.
Both of these species have interesting adaptations that help them survive. Without these adaptations, for example, the peregrine falcon would not be able to dive as fast, which would hinder its ability to snag its food. And, without the dragonfly's super eyes, they would not be able to hunt other insects as well as they do. Clearly, a species' adaptations are not only important but also necessary!
[Source: Wisconsin Natural Resources Complete Guide to Animals]