Wisconsin's Whooping Cranes Again Fly South
by Eleazar Wawa, age 16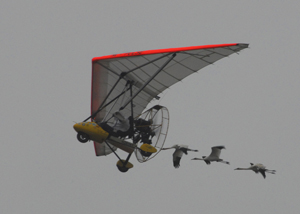 Every year, for the past decade, Wisconsin's whooping cranes migrate south to Florida for the winter. The birds are led by an ultra-light aircraft. This project is known as Operation Migration.
The goal of this operation is to reintroduce the cranes to their correct flying routes and aid in their preservation. For the first ten years of operation migration, birds were released from Necedah National Wildlife Refuge in Juneau County. This year, however, the release has been relocated to the Horicon and White River Marsh. Representatives of Operation Migration say this is because of a problem with black flies in Necedah.
The operation again went well. This is its 11th year.
Just before the migration was set to begin, one young crane wandered away from the flock and was lost for ten days. It was eventually found among a group of sandhill cranes at White River Marsh. The scientists working on Operation Migration say they are unsure whether the young whooping crane will be captured and put back in its original flock.
Operation Migration's journey usually consists of 18 young cranes, accompanied by two older cranes teaching them their southern route. The older cranes, which are usually in the front, are guided by two ultra-light aircrafts. Over the course of the journey, the cranes fly out of Wisconsin, then over Illinois, Kentucky, Tennessee, Alabama, Georgia, and then finally arrive in Florida.
Hopefully, more projects like Operation Migration will be implemented to aid in the struggle to preserve dwindling animal populations.
[Sources: The Capital Times; www.fws.gov]