This Talented Swimmer Doesn't Look Like a Fish
by Je'Niya Adams, age 11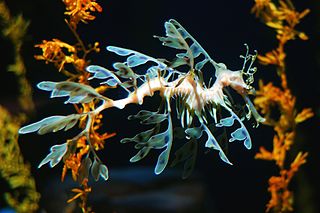 Although a seahorse is a fish, it barely resembles one. Its unique body structure and head shape are thought to resemble a horse.
The seahorse's jaw structure has evolved so it is easier to feed among seaweed. Its snout is able to suck weeds and tiny floating animals into its small mouth.
Most seahorses are found in the warm oceans and seas of the Atlantic, Pacific and Indian oceans and in the Aegean and Mediterranean seas. Seahorses can weigh as much as 8 ounces and grow to be 12 inches long. The skin of the seahorse is very rough so it can protect itself from small predators. The dorsal fin is formed by flexible extensions of the backbone; and it propels the seahorse forward while they swim in an upright position. The prehensile tail allows the fish to grip seaweed or another seahorse. It is the only fish with this talent.
Seahorses can be a variety of different colors. The maned seahorse possesses a 'mane' of dark spines. The golden seahorse has a typical body shape but its skin is a golden color, and the outgrowths of the leafy-sea dragon resemble foliage providing camouflage against predators.
Seahorses usually mate during the summer. Unlike humans, the male gives birth instead of the female. The male has an incubation pouch where the female delivers her eggs so he can then fertilize them. The incubation period can last between 4 and 6 weeks. The female can produce between 1,500 and 2,000 eggs, depending the species.
Seahorses are fascinating creatures with unique bodies and mating rituals. They are an important part of the ocean's sea life.
[Source: The Encyclopedia of Animals]