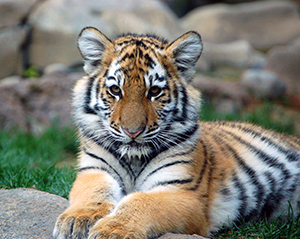 Although the tiger population has been dwindling steadily over the years, only recently are officials realizing how dire the situation actually is.
In 2010, the World Bank organized a gathering in St. Petersburg, Russia, which resulted in the Global Tiger Recovery Plan. The plan calls for expanded efforts to conserve tiger populations by increasing conservation efforts in more tiger preserves. Scientists want to connect new protected areas to the reserves where tigers already live. Their main goal is to double the current world tiger population by 2022. The plan will initially cost around $350 million for the first five years and will require more money in the future.

Alan Rabinowitz, the CEO of Panthera, an organization that specializes in wild cat conservation, and 21 other world-leading tiger biologists, strongly disagree with this plan. They want to spend the money on protecting the breeding areas, rather than expanding efforts to larger areas containing few tigers.

Tigers only occupy six percent of the proposed new reservations, and seventy percent of these individuals cluster together in tight groups. "With the limited resources that we have, we need to perform triage on areas with the largest number of remaining tigers," says director of Asian programs for the Wildlife Conservation Society, Joe Walston. Triage is the action of sorting according to urgency. For example, in hospitals, the severity of the wound or illness decides the order of treatment.

"If we fail at these source sites, all else is insignificant." According to Walston, once the core population has been secured, the surrounding areas will be stabilized as well.

John Seidensticker of the Smithsonian Museum, and an independent adviser for the World Bank initiative, agrees with the original plan, stating, "There's no time left to have one or the other, you have to do both at the same time."

Seidensticker and others are looking at more ways to fund the big price tag for a combined effort. One suggestion is to link the carbon trading market with tiger conservation. In the carbon market, people who burn or cut trees would buy carbon credits from others who are keeping their forests intact. The plan is to give forests that contain tigers a higher price, both improving the ecosystem and enhancing the cats' habitat.

According to Erin Dinerstein, World Wildlife Fund chief scientist and a World Bank consultant, "You're not going to raise $350 million for tigers alone, you are going to have to link in carbon and likely [fresh] water."

[Source: Smithsonian]