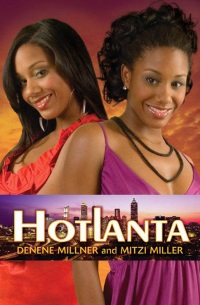 The Hotlanta novels, written by Denene Millner and Mitzi Miller, are a three-book murder mystery series about a dysfunctional family. The family includes twins Sydney and Lauren Duke who are completely the opposite but equally strong-willed. Sydney is a prim and proper straight-A student, while Lauren is a wild child whose main focus is boys. The twins constantly bump heads on the topic of their biological father, Dice. Sydney loves her father unconditionally and even goes behind her mother's back to see him. Lauren, on the other hand, despises her father for having left her and Sydney when he went off to prison.
These novels take a mysterious turn when a murder is committed. The twins learn that their mother and stepfather, a former friend of Dice, may have had something to do with it. The case is sad, too, because the murder victim is Lauren's boyfriend's older brother, Rodney. Lauren discovers that her mother and stepfather—and Dice, prior to his prison sentence—have been running an illegal business that may be linked to Rodney's murder. She is torn: should she turn her parents in to the police or stay silent?
The twins team up to uncover the mystery and save their family name. What they don't know, however, is that in the process, they will uncover some deep, dark family secrets.
The books ultimately challenge readers to solve the mystery: did Sydney and Lauren's mother and stepfather murder Rodney, or did their biological, ex-convict father? And for what reason?
I recommend the Hotlanta novels to high-school readers who can maturely comprehend the text's language and content. The first book of the series, Hotlanta , was so good that I read it in one day and was ready for more. Specifically, I liked that the novels kept me on my toes. I could not put the books down because every chapter served up more juicy drama and added to the suspense of the mystery.