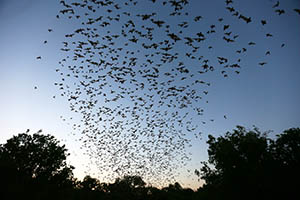 Every summer at Bracken Cave in Texas, a spooky ritual takes place. Twenty million hungry bats swarm out of the cave. Lucky for us, they feed on insects.
In the early spring, Mexican Free-tailed bats travel 1,000 miles from their winter location in Mexico to Bracken Cave to nourish their young. Hours or days after the bats arrive at their destination, each mother gives birth to one pup. Up to 500 baby bats huddle into one square foot of space. Warm and cozy, the bats use their body heat to keep from getting cold.
When it's time to feed, a mother can find her pup with just one sniff. She uses her keen sense of smell to locate her young. During their migration season the walls and ceilings are covered with millions of bats and the ground of the cave is covered in bat poop, or guano, which provides a tasty meal for various bacteria and fungi in the cave.
A group of bats is called a colony. Mexican Free-tailed bats form the largest colonies of any species of bats. When the bats fly out of a cave, they make a column so thick and big that they can actually appear on local airport radars.
Bats are amazing flyers. They can travel 60 miles per hour with help from their tail wings, and they can fly up to 10,000 feet in the air, which is as high as airplanes go. These bats were crucial during the Civil War. A gun powder factory located in Texas utilized bat guano to make ammunition. According to Jim Kennedy, a researcher of Bat Conservation International, when the bats fly out of the cave they make a cool breeze and apparently it's very soothing. "You can feel the breeze from their wings, and see the vegetation rustle," says Kennedy. "The flap of all those wings makes a very relaxing soft sound. I've always thought it would a great tape to help you go to sleep."
[Source: National Geographic Kids]