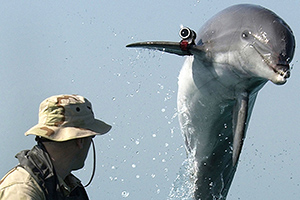 Most dolphins are gentle aquatic playmates, but it's a different story when it comes to dolphins trained by Russia. Training these dolphins takes place in Sevastopol, Crimea, at one of only two combat-dolphin training centers in the world.
This dolphin training program dates back to the 1960s, when Ukraine was part of the USSR. After the break up of the Soviet Union in 1991, the Ukrainian navy transformed the dolphin program to benefit civilians, such as children with disabilities. In 2011, however, the program was again appropriated for military use.
The program was originally scheduled to be disbanded by the Ukrainian navy in April of 2014. However, the facility and the dolphins became Russian property due to the reunification of Crimea and Russia later in the same year, so this never happened.
Now, the dolphins patrol open waters adjacent to Russia for security purposes. The dolphin military mission also includes protecting against "frogmen," who are combat scuba divers trained to slip past security perimeters. Frogmen and small objects in crowded environments, such as harbors, are often difficult for man-made sonar to detect, so the dolphins will be uniquely talented in this role.
Currently, the dolphins are outfitted with extremely outdated equipment. However, according to an employee at the dolphin training facility, experts "have developed new devices," which are able to convert the objects detected by the dolphins' underwater sonar to a signal on an operator's monitor. The employee added, "The oceanarium's engineers are developing new instruments for new applications to boost the operational efficiency of the dolphins underwater."
Strange as it may seem to utilize dolphins for military assignments, the Russian navy also trains sea lions, so dolphins certainly aren't a big jump!
[Source: Sputnik International]