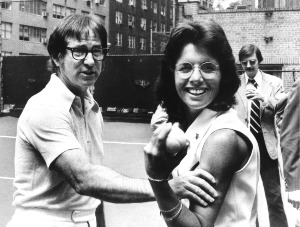 Billie Jean King was one of the first and one of the best female tennis players. This is how she became such an amazing tennis player.
Billie Jean King was born on November 11th, 1943 in Long Beach, California. Her maiden name is Billie Jean Moffit. Everybody in Billie Jean's family played a sport. Her brother, Randy Moffit, became a pitcher on the San Francisco Giants baseball team. She started to play tennis at the age of eleven, and immediately fell in love. She won her first championship at the age of 14. At the age of 16, she was ranked nineteenth in the entire country. At 17, she won doubles at Wimbledon with 18-year-old Karen Hantze. They were the youngest team to ever win the doubles tournament.
While she was studying history at Los Angeles State College, Billie Jean met Larry King, whom she married in 1965 and later divorced in the mid 1980's. They got divorced because Billie was in a same sex relationship with a different person. Billie was the first American athlete to acknowledge a gay relationship.
Billie Jean was named "Outstanding Female Athlete of the World" in both 1967 and 1968. In one of her most known matches 'the battle of the sexes', she played against Bobby Riggs. It was amazing because not only did she win the match but also because back then most people didn't believe that a women could achieve the same or do better then a man could. Billie Jean became the first woman to coach a male and female tennis team. She also coached the U.S Olympic women's team in 1996.
Today Billie Jean is part of both the International Tennis Hall of Fame and the National Women's Hall of Fame. Billie Jean's determination and achievements still inspire many of today's greatest female tennis players.
[Source: Women Who Changed the World ]