Wisconsin Mink Ranches Battle Coronavirus Outbreak
by Dyami Rodriguez, age 15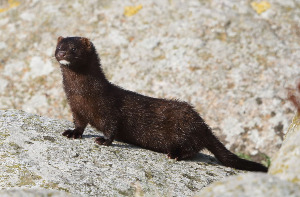 COVID-19 is not just a human problem. Recently, at a farm in Sheboygan Falls, Wisconsin, over 3,400 mink died from coronavirus in a one month period.
These deaths were confirmed beginning early October of 2020, when Wisconsin State Veterinarian Dr. Darlene Konkle reported that a couple hundred mink on the farm had died from the virus. Much like humans, the mink were immediately quarantined to try to contain the spread.
Months later they are still in quarantine and they are constantly tested to determine when it can end.
"One of the promising developments up there right now is that the rate at which the mink are dying has slowed to normal rates," Department of Agriculture, Trade and Consumer Protection Spokesperson Kevin Hoffman said.
Although there have been no indications of other mink farms reporting signs of the coronavirus, farm owners around the state are still preparing for its arrival. Some precautions they are taking are limiting visitors and having workers use personal protective gear.
"As the pandemic develops and is maintained even at whatever level, it's always a risk to our mink farms," said Dr. John Easley, a veterinarian from Glenbeulah in Sheboygan County and a mink industry consultant.
Hugh Hildebrandt, another veterinarian in Wisconsin who specializes in mink, said in a State Journal interview that mink farmers were already pretty careful about disease, even before the pandemic, because mink live so close together.
In Denmark, they are culling all minks in the country in hopes of reducing the spread. But Animal health authorities in the United States have not yet ordered a general mink cull. Hildebrandt says this is due to the fact that Wisconsin's mink farms are located in rural areas with low populations of humans.
Much is still unknown about how the virus acts in mink, but like humans, some mink will get the virus and survive, others will not. Researchers are trying to find out if the virus spreads to other animals such as cats, dogs and cattle. There have also been attempts to develop a vaccine for animal use. Authorities there report that the virus mutated as it went back and forth from human to mink, which could cause problems in making an effective vaccine for humans.
Now that so many mink are being infected by the virus, animal rights groups such as Animal Wellness Action and the Center for a Humane Economy have called for a government buy-out of mink farms and shutting them down, claiming that otherwise they could become virus superspreaders to animals and humans alike.
Hoffman said that the state is seeing a decline in coronavirus deaths in mink and that the virus has not appeared to spread to other animals. What will happen in the future remains to be seen.
[Source: Wisconsin Public Radio, Wisconsin State Journal]