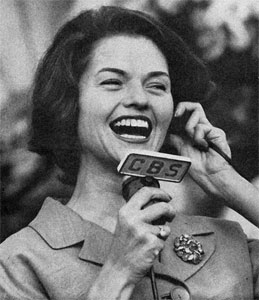 Though there are many women in the field of journalism today, this was not always the case. Nancy Dickerson, however, earned her status as a pioneer in radio and television news reporting in the 1950s and 1960s. In fact, she even worked as the first female reporter at CBS.
Born on January 27, 1927, in Wauwatosa, Wisconsin, Dickerson attended Clarke College in Dubuque, Iowa, before transferring to the University of Wisconsin – Madison. Here, she completed her degree of education in 1948.
Before pursuing her dream as a broadcaster, Dickerson worked in Milwaukee as a grade school teacher. In 1951, she moved to Washington D.C., where she went to the Catholic University of America to learn the skills that became crucial to her as a future broadcaster. Dickerson also worked in D.C. as a Senate Foreign Relations Committee researcher. While in this position, she gained a passion for government work, a passion that also determined her future career path.
In 1954, Dickerson got her big break. While the field of journalism was entirely male-dominated at this time, CBS News's Washington bureau recognized Dickerson's talents and hired her as a producer for the radio show Capitol Cloakroom. Six years later, CBS promoted Dickerson as their first female news correspondent.
Following her employment at CBS, Dickerson reported for NBC News. Here, she covered many important issues including election campaigns, political conventions, and events at the White House. Most notably, Dickerson covered Martin Luther King Jr.'s "I Have a Dream" speech.
In 1971, Dickerson decided to leave the network and become an independent producer and broadcaster. Nine years later, she founded the Television Corporation of America.
Due to her many achievements, Dickerson earned a reputation as a stellar newswoman. Each year, Clarke College awards one outstanding professional in the communications field with the "Nancy Dickerson Whitehead Medallion."
At the age of 70, Dickerson died due to complications from a stroke she suffered one year prior in 1996. She will forever be remembered as a newswoman and pioneer who overcame many challenges to achieve great success.
[Sources: The New York Times; Wikipedia]