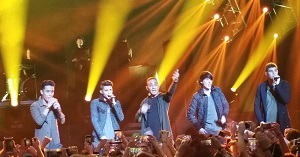 CNCO is a Latin American boy band with five members: 21-year-old Christopher Velez (Ecuadorian), 20-year-old Richard Camacho (Dominican Republican), 19-year-old Zabdiel De Jesus (Puertorican), 18-year-old Joel Pimentel (Mexican), and 16-year-old Erick Brian Colon (Cuban).
Most CNCO band members expressed interest in entertainment before ever entering a studio. These five talented singers met on a televised singing competition, "La Banda," that would eventually change their lives.
La Banda is a Latin television program created by the famed music critic Simon Cowell. The show's purpose is to form the next great Latin boy band. La Banda's first five finalists—Velez, Camacho, De Jesus, Pimentel, and Colon—gathered to form CNCO after the show's 2015 production. The band's name is an abbreviation of the word "cinco," which means "five" in Spanish.
CNCO won the televised competition after performing the song "Duelvame mi Corazon" following this, they even received congratulations from the famous boy band One Direction. For winning, CNCO earned a recording contract with Sony Music Latin.
CNCO's most popular single, "Reggaton Lento"—written and produced by rapper Wisin—currently has over 355 million views on YouTube. In the past couple of years, CNCO has won many awards. In 2016, they were named "New Artist of the Year" for the Pop/Rock genre, and they earned the "Favorite Duo" and "Group Awards" at Premios Juventud for "Catchiest Tune."
In 2017, CNCO won the award for "Song of the Year" for "Tan Facil." This same year, they received praise for their first album, "Primera Cita."
The many awards CNCO has won in just a couple of years goes to show how far they've come since first appearing on La Banda. As a member of a Latin American boy band myself, I know the hard work that goes into achieving success in the music industry. I applaud CNCO's efforts and look forward to their second album.
[Source: Wikipedia]