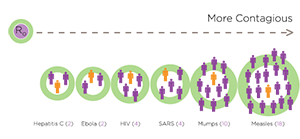 Due to the recent media focus on Ebola, much of the U.S. population is worried about an uncontrollable Ebola outbreak. However, people in the U.S. should not be concerned. Why? The answer lies in the R0, or the "R nought," a number used by epidemiologists to determine how infectious a disease is. This mathematical term predicts—with accuracy—how many people who come in contact with an infected person will actually get the disease.
Different diseases have different R nought numbers. Measles, for example, has an R nought number of approximately 18, which makes it one of the most contagious known diseases. An R nought of 18 simply means that each person infected with the measles will pass it on to an average of 18 other people, assuming that the general population is not immunized against the measles. If everyone were immunized, however, the measels' R nought number drops to zero.
Many different factors contribute to a disease's R nought number, including how long someone is infected and how a virus is transmitted. For example, someone with HIV can be contagious for years. However, because HIV is not an airborne virus like the flu, transmitting the virus is more difficult. To pass on the disease, the infected individuals would have to come in contact with another's bodily fluids like blood or breast milk. These factors decrease HIV's R nought number to four, which is relatively low considering how grave HIV is.
In comparison, Ebola's R nought number is much lower than HIV's. In fact, Ebola's R nought number is only two. On average, someone with Ebola is only contagious for about a week when showing symptoms. During this period, transmission of the infection can only occur through contact with bodily fluids. These factors, combined with new proactive and responsive public health regulations, make the likelihood of an Ebola outbreak in the United States very slim.
[Source: NPR: No, Seriously, How Contagious is Ebola?]