Madison's Favorite Movie Rental Store, Four Star Video Heaven to Become a Co-op
by Aubrianna Willard-Lee, age 14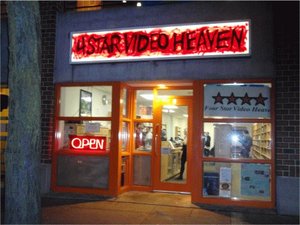 "If you want this Madison cultural landmark to stick around, start breaking open those piggy banks!" says the Four Star Video Heaven campaign website.
Movie fans across the country have said that Four Star Video Heaven is the most acclaimed video store in the nation. The store needs financial help to stay open. Lisa Brennan, longtime owner, is giving up the store, even though she loves it so much. She says that she is ready for a change; Brennan has worked in the store since 2003.
Four Star first opened in 1985 on Henry Street. The store became known nationwide for its large selection of movies. Four Star later moved to its current location at 449 State Street. After Brennan's decision to leave the store, her employees decided to try to keep it open. Six Four Star employees formed a legal co-op to take over the operation. They have launched a campaign on Indiegogo, an international crowd-funding web- site. They had to raise at least $50,000 to renegotiate the store's lease by the end of April. They wanted to tap into the current base of Madison's customers as well as other movie fans to try to raise the money.
Video stores have been endangered since the start of Netflix and Amazon Prime. Hollywood Video and Blockbuster have closed all of their locations in Madison. But Four Star has managed to stay open, solely because of the store's human touch.
" Most of our brick-and-mortar competition has gone out of business, and we offer an inventory that just can't be matched," said employee Andrew Fox, "Plus, we have a lot of human things, talking about movies. It's just a very different browsing experience than being online."
"People really care about this place very much. It's been around 30 years and has been doing very good business the entire time, providing resources they can't find anywhere else," Fox said.
While the online campaign didn't meet its targets, fundraising so far has brought in enough for a "solid down payment," said Lisa Brennan in an email. Brennan also said the co-op is talking with banks about a loan while continuing to raise money locally with a variety of events.
[Source: The Cap Times Newspaper]