Staff Writer to Attend Conserve School
Free Press Staff Writer Awarded Conserve School Scholarship
by Melody Krishnan, age 16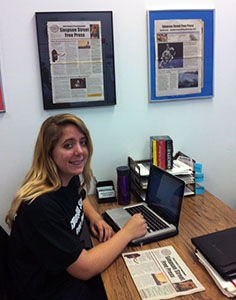 McFarland High School student and Simpson Street Free Press staff writer Rebekah Severson received a $15,000 scholarship to attend Conserve School in Land O' Lakes, Wisconsin. Severson, 16, will spend the winter of 2015 at the school studying environmental and conservation practices.
She will be with 60 other high school students in the academic program that centers its curriculum on nature. Students take four core classes and have unique opportunities to participate in hands-on, outdoor activities.
The program accepts students on a first come, first serve basis. "I applied because it seemed like a fun experience that would help me grow as a student and person. Also, I would get to try several new things and meet new people," Severson said.
The 1200-acre campus provides much space for students to be active. "I'm interested in the outdoors and want to explore," Severson said. She added, "we'll get to to a lot of cool things like cross country skiing, back-packing, and canoeing."
Outdoor activities like these go hand-in-hand with academics at Conserve School. According to the school's website, past students built a canoe while learning about Lewis and Clark.
An additional learning opportunity students have is living with each other and away from their families. "You learn a lot about how to manage your time and also how to live with other people you don't know. It is preparing you for college," said Severson.
Among Severson's many interests are writing, reading, and playing the piano. She also plays tennis and basketball for McFarland High School, where she maintains a 3.973 grade point average. Severson intends to spend part of her summer completing a Summer Media Institute internship at The Capital Times. Here, she will edit articles written by students younger than her. Severson was accepted into the internship program through the Free Press.
She began working at the Free Press in July of 2013. She describes it as "a teenage newspaper that allows students to experience what it's like to write in a professional setting." Severson said, "I most enjoy writing articles and learning information from them that I otherwise wouldn't have."
Free Press staff and students are excited for and proud of Severson. Rebekah plans to write an article about her experiences at Conserve School once she returns. The staff and students congratulate her on her acceptance into the school and are confident that she will have an amazing experience.
[Sources: The McFarland Thistle; conserveschool.com]