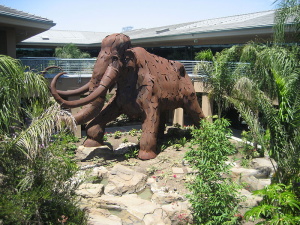 The first-ever symposium about the future of zoos was held in Buffalo, New York. The conference, which discussed topics ranging from new designs for zoos to bioengineering the animals, was attended by zoo directors, animal behaviorists, conservationists, and architects.
At the conference, new designs for zoo habitats were discussed. Some presenters suggested increasing open territory in zoos so that the larger animals would have room to wander. Others recommended high-rise zoos to be built in large cities, which would economize space and allow city dwellers to see zoo exhibits without traveling far.
Some of the most controversial ideas brought up at this meeting indicated changes to the animals themselves. According to John Fraser, former director of the Wildlife Conservation Society, animals could be bioengineered to better suit captivity. For example, altering big cats to produce more endorphins would make them be less aggressive.
"Animals could have more freedom without putting others at risk", noted Fraser. This could alter how zoo visitors interact with the animals. Fraser even believes we will soon have animal cyborgs with lab-grown tissue and mechanical brains, allowing zoo visitors more freedom to interact with different species that aren't normally found in petting zoos.
Other complex advances in technology indicate that within decades, cloning extinct animals such as dodo birds, saber-tooth cats, and woolly mammoths will be possible by sequencing genes from ancient tissue. Someday, researchers may be able to use DNA from mammoth tissue to produce an embryo that a surrogate elephant would carry, allowing the great woolly mammoth to walk the earth once again. For now, researchers from Asia and Europe are attempting to piece together DNA from mammoth tissue preserved in Siberian permafrost.
These advances in technology will not only alter the habitats of zoo animals, but the very animals themselves. "The evolution is underway," says Michael Noonan, a biologist at Canisius College.
[Source: Discovery]