Cavemen Might Not Be So Dim-witted After All
Findings Suggest They Were Capable of Symbolic Thought
by Melody Krishnan, age 16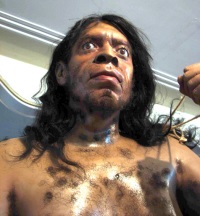 Neanderthals, sometimes known as cavemen, were once thought to be dim-witted. Until recently, the possibility of cavemen having artistic talents was simply out of the question. Neanderthals were thought to be incapable of creating Paleolithic art. However, new evidence suggests Neanderthals were more cultured than we thought.
European researchers conducted a reinvestigation of 50 paintings found in 11 caves in Spain. Their findings provide further information on the intelligence of Neanderthals.
By determining the artwork's age, scientists could confirm whether the art was created while Neanderthals walked the earth. A team of European researchers examined calcite crusts formed on the paintings and performed a process known as uranium-thorium dating. They were able to measure the element thorium in a fraction of calcite as minuscule as a grain of rice to approximate the date the calcite was formed. Uranium-thorium dating determines the youngest possible age of the art being tested.
One tested painting featured a red disk encompassed by stenciled, red hands. The dating test found this particular painting located in El Castillo, a cave in the province of Cantabria, Spain, to be at least 40,800 years old, making it the oldest discovered European cave art to date. Archaeologists believe the disk was likely made by blowing pigment onto the wall.
"We now have a series of examples of different kinds of pigment use in archaeological contexts that can only be associated with Neanderthals," stated Erik Trinkaus, a professor of physical anthropology at Washington University in St. Louis, but who was not a study team member. João Zilhão, a Paleolithic archaeologist at the University of Barcelona, and his team of researchers were not members of this study, but believe the date of the red disk to be an indicator that Neanderthals may be the designers of the painting.
Neanderthals became extinct 30,000 years ago. However, modern humans traveled to Europe 40,000 to 45,000 years ago. These facts indicate that the artwork was created during a time when both Neanderthals and modern humans coexisted.
In light of this new evidence, scientists believe that Neanderthals' abilities may not be as limited as previously thought. If Neanderthals made these paintings, they were also capable of symbolic thought and were able to communicate meanings through imagery.
Disks similar to the red one described, as well as hand stencils, were the oldest paintings discovered in the Spanish caves. Even though paintings of horses and bison were also found on the cave walls, the ages of these art pieces are too young to have been created while Neanderthals were alive. Thus, it can be concluded that Homo sapiens were the artists of the animal paintings.
Paul Pettitt of the University of Sheffield, a cave art expert and study team member, stated, "It is possible that dots and other non-figurative motifs were created by Neanderthals and [pictures of] animals by Homo sapiens. It needn't imply any mental differences between the two. If you draw an animal and I draw several dots, there are no underlying differences in our cognition."
All throughout Europe, Zilhão's team intends to sample more geometric symbols and hand stencils in order to identify paintings more than 42,000 years old.
If the paintings described exist, then according to Zilhão, "The results could be described as the last nail in the coffin of the 'Neanderthals as a different and cognitively handicapped species' concept."
[Sources: Archaeology; Encyclopedia Britannica; National Geographic]