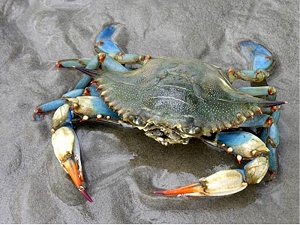 People around Wisconsin often don't get to witness a Chesapeake in the wild. The blue crab is native to Western Atlantic Ocean and the Gulf of Mexico. Somehow, a Chesapeake turned up in the northern waters of the Mississippi River. The crab had traveled over 1,000 miles through river dams. Remarkably, it survived.
Three UW-La Crosse students spotted this blue crab sometime in mid-November at Airport Beach on French Island on the Mississippi River. They named the crab "Brabbie," a combination of their names—Brittany Kujatha, Abbey Johnson, and Katie Mabery. When they first saw Brabbie, the crab was still alive; what they didn't know was just how far away from home Brabbie was.
The students told their instructor, Carol Witt-Smith, about Brabbie the following day. That same day, they returned Brabbie to the beach. Sadly, Brabbie did not survive the night. Carol brought the remains of Brabbie to the U.S. Fish and Wildlife Service to investigate Brabbie's death.
Witt-Smith told the La Crosse Tribune it's a "mystery" how the crab ended up so far from home.
It is unfortunate that this special little crab came such a long way only to survive for a couple of days. If it's any consolation, National Geographic says that Chesapeakes produce a sweet, tender meat, thus making it one of the most heavily harvested creatures on the planet.
[Sources: Wisconsin State Journal; National Geographic]