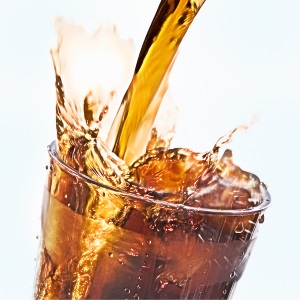 Researchers are working to find truths, dispel rumors, and give consumers the facts about how diet soda affects one's health.
For several decades, theories about zero-calorie sweeteners have been somewhat contradictory. While drinks with zero-calorie sweeteners cut down calorie intake, and may therefore aid weight maintenance, recent research has shown that artificial sweeteners affect the human body at a metabolic level and could ultimately lead to cancer and diabetes.
Scientists at the Weizmann Institute of Science in Israel published a study in the journal Nature that presents their newest research on the subject. Their data suggests that diet sodas may change the microbes in drinkers' guts, thus putting them at higher risk for metabolic-based diseases like Type 2 Diabetes. To explore this idea further, the research team fed zero-calorie sweeteners found in diet soda to mice. They were alarmed by the results.
"To our surprise, [the mice] developed glucose intolerance," Weizmann researcher Eran Elinav said. Glucose intolerance, a metabolic condition, raises blood glucose to levels higher than normal.
Elinav and fellow researcher Eran Segal then repeated the experiment in humans. Initially, the research team analyzed data from a group of about 400 people. This data showed that those who consumed large amounts of artificial sweeteners had a slightly higher HbA1C level, a long-term measure of blood sugar, in comparison to people who consumed little or no artificial sweetener.
After collecting these results, researchers then recruited seven of the volunteers who did not routinely consume diet drinks to ingest the equivalent of 10 to 12 artificial sweetener packets over a one-week period. Four of these seven participants had significant changes in their blood glucose by the end of the week. In fact, some even experienced their blood sugar temporarily sky-rocketing to pre-diabetic levels.
This study indicates that artificial sweeteners can alter the way bacteria mix in the guts of both mice and humans, and ultimately leading to glucose intolerance. Although researchers intend to support these findings with additional tests, this study helps explain why it is so hard to get a definitive answer about diet soda's effects. Because everyone's microbiological makeup is different, diet soda impacts each individual in various ways. "It's much too early, on the basis of this one study [to conclude that] artificial sweeteners have negative impacts on human's [risk for diabetes]," said James Hill, Director of the center for Human Nutrition at the University of Colorado.
The debate on artificial sweeteners has become a no-win scenario. Those who want to watch their weight drink "sugar-free" beverages but end up consuming artificial sweeteners that could wreak even more havoc on their microbial systems. On the other hand, those who drink sugar-based sodas risk contracting diseases that create other health concerns.
Researchers hope to implement a large-scale study soon to provide more support for this conclusion. Whether or not it is safer to consume diet soda than regular soda is still unclear, but it is important for consumers to stay informed. Just remember—when in doubt, water is always an option.
[Source: NPR]