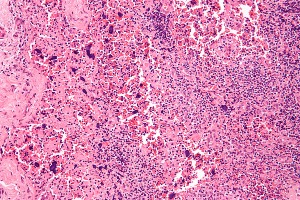 Lupus, an autoimmune disease that affects many people—especially young women of color—can be socially, emotionally, and physically draining. UW Health serves more than 600 Lupus patients and recently opened a new clinic to serve those affected.
A complicated and puzzling condition, Lupus primarily affects women and people of color between the ages of 15 and 44. The cause of the disease is unknown, though researchers believe it may be connected to environmental, genetic, or hormonal factors. Currently, there is no known cure for Lupus. Symptoms of the disease include fatigue, joint pain, facial rashes, seizures, and strokes. These symptoms can appear alone or in any combination, thus making Lupus frequently hard to diagnose.
A Lupus diagnosis can severely impact one's quality of life. One Lupus sufferer whose social life has been negatively impacted by the disease is Madison-resident Jordana Lenon. Lenon was diagnosed with Lupus at age 48 after she began to develop an odd sensitivity to warm temperatures. Before her diagnosis, she experienced many common symptoms. For example, the pain Lenon experienced on a daily basis restricted her abilities, including going outside and enjoying nice weather. With medication, Lenon is back on her feet and now lives a comfortable life.
According to the Centers for Disease Control and Prevention, 322,000 Americans have Lupus. However, the National Resource Center on Lupus claims there are actually 1.5 million people with Lupus in the U.S. This number grows by 16,000 every year.
Dr. Shivani Garg, the rheumatologist leading the new clinic project at UW Health, wants to help the increasing numbers affected by Lupus. Dr. Garg brings a new approach to Lupus by forming a collaboration between doctors, social workers, and pharmacists, who work together as treatment teams. Social workers help Lupus patients improve their mental health and assist them with any financial burdens they may have. Pharmacists guide patients through using different medications. Because doctors do not typically investigate different aspects of a patient's life, this clinic will allow patients to receive a more personal, holistic care experience.
Though living with Lupus is often stressful and tiresome, UW Health's new clinic promises to be a great new support for those with the condition.
[Source: Wisconsin State Journal]