Carnivorous Plants Don't Only Exist In Your Nightmares
They Feed On Unsuspecting Critters
by Simone Rogers, age 17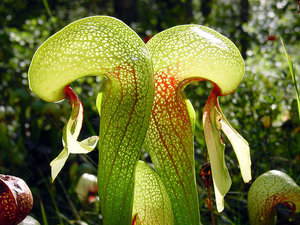 By using tricks of light and smell, some plants in this world are not friends to insects. These carnivorous plants catch and consume insects to supplement their diets much as humans use vitamins. They need these additives because they live in waterlogged ground that lacks essential nutrients.
Meat eating or carnivorous plants are made up of two groups: inactive and active. Plants with inactive traps have no moving parts, and simply attract their victims with a food-like scent. This draws in an insect that will get stuck on the plant's sticky surface. Plants with active traps use moving parts to catch their prey. When an insect is caught by either group, it is slowly dissolved by digestive fluids, leaving only its exoskeleton the hard, outer casing of the body.
Flesh-eating plants have strange adaptations to lure and trap critters. Some examples of carnivorous plants are butterwort, bladderwort, cobra lily and American pitcher plant.
Butterworts have flat leaves that are circular and sticky. This flower-like plant looks innocent, but can catch an unfortunate insect off-guard. When the bug lands on a butterwort's distinctive leaves, it sticks to them and eventually dies.
Bladderworts develop traps shaped like tiny pouches. Water animals will swim past these bubble-like bladders, which then snap open and suck the insect inside.
Pitcher plants have different shapes; some have scales of wax, others have a snake like shape. The American pitcher plant has straw-like hollow leaves that are slippery inside. As the insect tries to climb up and out, scales block its climb; it eventually tires itself out and drops into liquid at the bottom of the pitcher.
The California pitcher, also called the cobra lily, got its name because its shape looks like a snake reared up with a flicking tongue. The California pitcher plant grows in light. The insect enters, gets confused by light shining in through windows too small for escape. They eventually become exhausted and die.
Even though their names and behaviors are strange enough to sound like fiction, remember, these are real carnivorous plants.
[Source: Eyewitness Books: Plants]