FDA Blocks Sale of Personal Genetics Tests

by Stephanie Sykes, age 18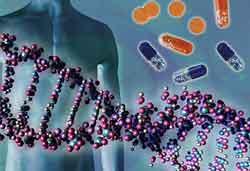 The Food and Drug Administration (FDA) recently blocked the sale of the first over-the-counter personal genetics tests. This product was scheduled to hit the shelves of Walgreens and CVS pharmacies this year. Many would have been thrilled with this opportunity to test their likelihood of developing genetic diseases. The FDA, however, certainly wasn't jumping for joy.
The test's manufacturer, Pathway Genetics, had their distribution plan set earlier this summer. Almost immediately after, the FDA announced that they did not consider the test a legitimate medical tool.
Consumers who chose to buy the test kit would have spent between $20 and $30 to purchase a vial in which they could collect their own saliva to send to Pathway Genomics. For additional costs of between $79 and $249, Pathway would have provided an in-depth analysis of the customer's genetic code for pre-pregnancy planning and health condition analysis.
Tests like this one are nothing new. Doctors and other healthcare professionals have purchased similar products online for years. Online companies similar to Pathway Genomics currently market genetics tests to consumers online. The cost is usually between from $400 and $1,000.
The FDA is concerned about these new over-the-counter tests because they eliminate the involvement and supervision of a medical professional. A direct-to-patient set up could lead to inaccurate test results and misinterpretations of data. They don't want people to self-diagnose, or worse, take decisions about drug dosage into their own hands.
The FDA is also unsure of how accurate the test results are, and they plan to continue to block retail sale of this new product. Walgreens claims it is simply trying to satisfy the consumer demand. They want to sell the tests at 6,000 of their 7,500 stores.
[Sources: Chicago Sun Times; Associated Press]