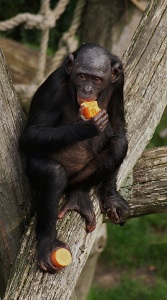 Would you believe that chimps can cook? Well they can!
A recent experiment on chimpanzees implemented in the Democratic Republic of the Congo studied whether they could distinguish between raw and cooked foods and whether these animals could teach themselves how to cook, given the right tools.
The experiment was carried out by Alexandra Rosati, an evolutionary biologist at Yale university, and Felix Warneken, a psychologist at Harvard University. In this experiment scientists gave chimps some raw food and a faux or false oven.
"At first, the chimps pretty much ate the food," says Rosati. But, according to Rosati, the chimps soon learned that if they put food in the oven, it came out cooked.
In the past, chimps have been taught to cook by people. This is the first study to test if they can acquire these skills on their own. When the chimps were given a cooked potato slice, they ate it, but when given a raw carrot, the chimps would immediately put it in the faux oven.
Scientists used to think that cooking was something that animals couldn't do. Warneken and Rosati must have been surprised when their study showed that chimps could cook.
[Source: NPR]