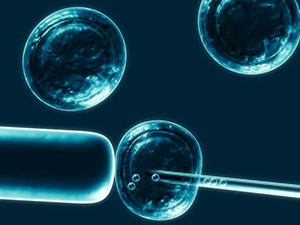 The practice of stem cell research has existed for almost two decades, since the first successful embryonic stem cell growth (ESC) in 1998. Following this, stem cells have led scientists to many significant breakthroughs in the medical field.
            For the past 15 years, director of the Institute for Regenerative Medicine at the University of Pennsylvania John Gearheart has aimed to use stem cells from cloned human embryos. He hoped to specifically match these stem cells to any patient. Recently, his hopes have been realized.
            Now, researchers have produced patient-specific stem cells and can develop them into any type of tissue in the body. To grow these cloned cells, scientists use human oocytes (eggs), human skin cells and special needle-like instruments. Then, they remove DNA from the oocyte and transplant the nucleus of the skin cell into the oocyte. This tricks the oocyte into behaving as if it has been fertilized. More steps are then taken to reprogram and manipulate the process of fertilization. "[T]hese stem cells are essentially the seeds for all tissues in our bodies," said George Daley, director of the stem cell transplantation program at Boston Children's Hospital.
            Daley appropriately calls these cells "master cells," because they can potentially do anything—from growing organs to treating diabetics. Approximately one million Americans have Type 1 diabetes, a disease that can cause kidney failure. According to the Organ Procurement and Transplantation Network (OPTN), 100,978 Americans are on the waiting list for a kidney transplant. If this cloning method of stem cell production is perfected, many, and possibly even all who are waiting for a transplant or cure, could be treated with patient-specific cells.
            Political controversy surrounds this cell-growing process however. Some are concerned that the oocyte may actually develop into a human life. Yet, scientists indicate that this will not happen, and it is not part of their goal. 
            If this experimental research is successful, it may lead to the antidotes for many diseases. Indeed, stem cell research could, in the eyes of some, be one of greatest breakthroughs in medical history.
[Sources: CNN; OPTN; Embryo Stem Cell Research: Ten Years of Controversy]