The Rich Basketball History of Madison La Follette High School
by Josepha Da Costa, age 16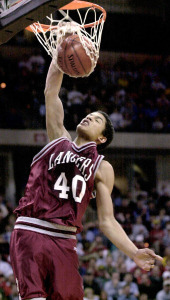 The 2021-22 Madison La Follette High School basketball team had a very successful season. But this isn't the first time La Follette has had an excellent team. In fact, the school has a rich basketball history and the Lancers have won three state championships. Many La Follette players have gone on to play college basketball for major programs like the University of Wisconsin and Creighton University.
The rich history of La Follette Basketball began in 1977. They finished 4th in the Big Eight conference that year. While the team finished the regular season with an overall record of 17 wins and 8 losses, they managed only 10 wins against 8 losses during the conference season.
Nonetheless, the Lancers made an electrifying for a run for a state title. Coached by Pete Olsen, they advanced to the finals by beating Milwaukee Tech 55-48 and Neenah 46-43. The state championship game was played against a team that had been to the finals 15 times since the last time a Madison high school made a trip to state.
Eau Claire Memorial came into the game with a record of 23 wins and 2 losses. A lot of pressure. But the Lancers stayed calm and collected, sinking 63.6% of their shots. In the end, La Follette took home the trophy, beating the tough competition 65-48.
In 1982, the Lancers took home another state championship trophy. With one of the best players in the state at the time, Rick Olsen, the team beat Stoughton in a close regional game, 64-62. Then, behind throughout most of the game, the Lancers suddenly rallied to beat Madison West, sending the Lancers to sectionals. There they beat conference foe Sun Prairie to advance to state.
The championship game was at the storied UW Fieldhouse in Madison. La Follette faced off against Wisconsin's No. 1 ranked team. What followed was an intense game against undefeated Stevens Point. Well-played from both sides, the game was close up until the very end. With a foul called at 4 seconds left, the Lancers were sent to the line and made both shots, winning 62-61.
The 2002 La Follette Boys Basketball regular season ended a bit roughly some would say (11 losses). However, in true underdog spirit, they won the regionals and then the sectionals, sending them to the state tournament.
In the quarterfinals, a buzzer beater from future Wisconsin Badger Michael Flowers cinched a win against Appleton West, 51-49. Finally, in an historic state championship game played at the Kohl Center, the Lancers came out victorious against Fond du Lac, 43-40.
Yes, Madison La Follette has made its mark in Wisconsin Basketball history. As you've read about the school´s journeys to the three state championships, there is a common theme to their success -- perseverance. Because it's not always the team with the best record that wins the state championship.
[Sources: Madison.com; Wisconsin State Journal; The Capital Times; Stevens Point News]