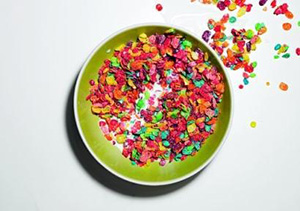 Parents may find that providing healthy breakfast options for children can be a challenge, considering the amount of advertisements that exist for unhealthy cereals. Scientists at Yale University are currently studying this problem.
Researchers at Yale tested the nutritional value of 115 different brands of cereal. They discovered that the more unhealthy the cereal, the more television commercials advertising it are aimed at children. In fact, cereal companies pay about $156 million to run television advertisements every year.
Cinnamon Toast Crunch, for example, averaged 82 advertisements in a one month period. Frosted Flakes averaged 58 advertisements, while Fruit Loops averaged 38. Researchers also determined that on a nutritional scale of 0 to 100, a score of at least 62 is considered healthy. Yet, Cinnamon Toast Crunch scored a mere 37, while Frosted Flakes scored 43 and Fruit Loops gained only 38 points on the scale.
Based on studies like these, researchers think that the amount of advertisements on television for certain food products like these cereals directly relates to the weight problems evident in the United States and especially those in youth. Cereal companies claim that they have responded to this problem by reducing calories, fat, and sugar in their products and by adding extra fibers and vitamins to their cereals.
Despite claims like these, many still question how healthy certain cereals really are. Indeed, the researchers at Yale suggest that cereal may not be the best breakfast choice for children, after all.
[Source: Time For Kids]