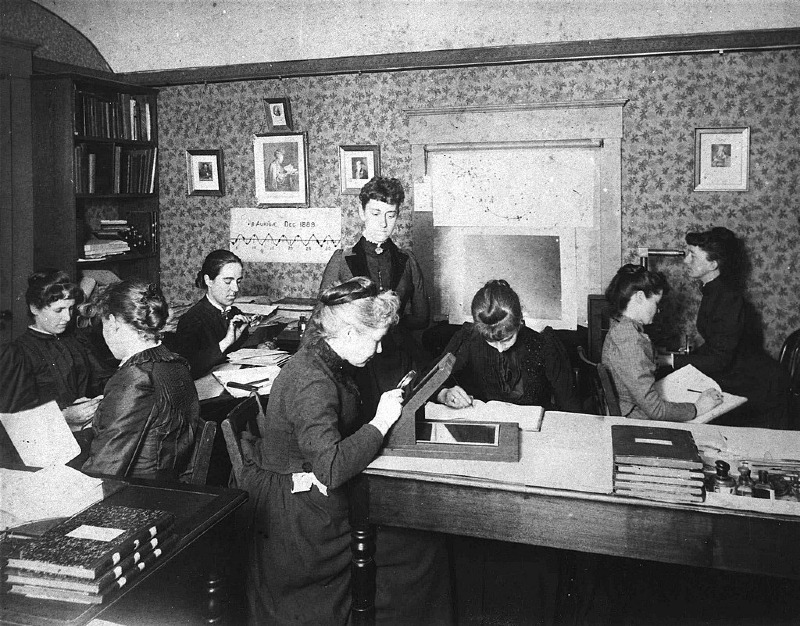 by Devika Pal, age 17
As early as the mid-19th century, women made vast contributions to astronomy. They had to fight for representation and recognition in this field. Pioneers such as Maria Mitchell and a group of women known as the Harvard Computers paved the way for the women who followed. However, even now, many women struggle to receive credit for their work.
Maria Mitchell is recognized as the first professional woman astronomer in the United States. She discovered a comet in 1847 using a small telescope, which was later named after her, Miss Mitchell's Comet. The discovery was initially credited to Italian astronomer Francesco de Vico even though he discovered it after she did; it was not until later that it was credited to Mitchell. The first Secretary of the Smithsonian Institution, Joseph Henry, even published the comet's discovery in 1848 without mention of Mitchell's name. His actions reflect the refusal to credit women astronomers for their achievements, a common tendency at that time. Despite being initially overlooked, she was admitted into the American Academy of Arts and Sciences in 1848, becoming the first woman to be recognized by the Academy.
During the early 20th century, Harvard Observatory Director Edward Charles Pickering put together a team of women astronomers who came to be known as the "Harvard Computers." These women carried out astronomical calculations and invented the Harvard spectral classification, which they used to classify hundreds of stars. Over a century later, this system is still being used by modern astronomers. However, the women worked in substandard conditions, only earning 25 to 50 cents an hour, much less than the men made, while performing a similar wide range of duties. Even Annie Jump Cannon—who was central to development of the Havard classification system—was not credited by name in the title. [Read More]