Science Fiction Writer, Octavia Butler, Recognized by NASA
by Elim Eyobed, age 11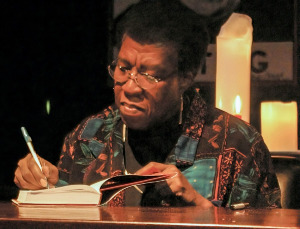 Who is your favorite writer? Hemingway? Shakespeare? Well, one great writer you may have never heard of is Octavia E. Butler. Butler was an esteemed African American author who was recently recognized by NASA for her groundbreaking talents. NASA scientists even named a Mars landing site after her.
Butler was raised by her mother and grandmother and was extremely shy as a child. When she was 12 years old, Butler started to read fantasy books, and later wrote science fiction when she was a teenager. The science fiction she wrote helped make her a very strong writer. In fact, she became such a powerful writer that her books won the New York Times Notable Book of the Year award, The Nebula award for the best science fiction novel published in that year, and the Macarthur Genius Grant.
During the 1960's, Butler attended college at Pasadena City College, California State University, and the University of California. She wasn't a good student in particular, but an avid one. While in Washington, Butler participated in the Black Power movement. She became familiar with The Clarion West Workshop, which was a well-known place for writers.
While she was an author, Butler had many occupations; she was a potato chip inspector, telemarketer, a dishwasher, and a teacher, among other things. Every day she woke up at 2 a.m. just to write, before working at her full-time jobs!
Octavia E. Butler was an astonishing author and a very hard worker, and although it may sound unlikely, sales of her books actually skyrocketed after her death in 2006. Her books became so famous that a lot of them were converted into movies, shows, and even comic books.
[Sources: space.com; NASA; octaviabutlter.com]