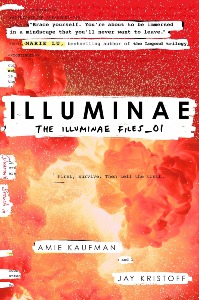 1. Illuminae by Amie Kaufman and Jay Kristoff
Illuminae is a sci-fi book set in the future. The premise is that BeiTech, a mega-corporation, has tried to weaken their competition by destroying the planet Kerenza and its population, which houses a mining operation own by their rivals. Some of the miners and civilians living there, including the main characters Kady and Ezra, are able to get a distress call out and are saved by a passing spaceship. Unfortunately, since BeiTech can't let it leak that they were killing thousands of people, BeiTech forces pursue them and attempt to finish the job. While the refugees race to safety, their situation goes from bad to worse as they find out that not only did BeiTech unleash a killer pathogen on them, but their own AI is turning on them, and their commanders have been hiding vital information from them.
I would recommend this book because not only is it relatable and thrilling, but it's also well written. The main characters are easy to connect to and face many of the same issues that current teens do. This book is unique in that it's not written in the typical style. Illuminae is like a case file, and is made up of a collection of emails, transcripts, interviews, reports and more. Personally, I thought this made the book develop in interesting ways and made it even more suspenseful. I would recommend this book not only to people who like sci-fi and thrillers but also to anyone who enjoys an exciting, relatable book that will make you think.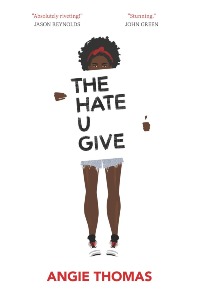 2. The Hate U Give by Angie Thomas
The Hate U Give is a book about Starr, a girl caught between two worlds. Starr is black and lives in a predominantly black neighborhood, but attends a mostly white prep school. In her normal life, she is forced to balance the two and become essentially two different people. When she becomes the sole witness to her best friend, Khalil, being fatally shot by a white officer, Starr doesn't know what to do. Everyone's taking sides, and her worlds are falling apart. Should she speak out and risk alienating her classmates? Or stay quiet and never get justice for Khalil?
I would recommend this book because it's relevant and interesting. The Hate U Give addresses many prominent issues in America right now, like racism, wealth disparities, and addiction. It explores how people deal with tragedies, and ways our culture justifies death. It's an insightful novel that explores our world today and how it impacts youth. Starr, the main character, is well developed; her sharp wit and personality are a nice contrast to the many almost generic characters that populate modern novels.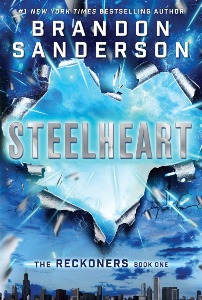 3. Steelheart by Brandon Sanderson
Steelheart is a futuristic sci-fi fantasy centered on a world where some people called Epics are randomly given superpowers. The side effect: all Epics turn evil eventually. David is a citizen living under the regime of Steelheart, an Epic with impervious skin along with the power to turn things to steel and fly. Steelheart rules over what used to be Chicago with an iron--or rather steel--fist, and allows the resident Epics to terrorize the ordinary population. As a young child, David watched Steelheart kill his father. As he grows up working in the underground factories, he is determined to avenge his father's death and begins extensive research about Epics. When he joins the underground resistance movement named The Reckoners, he is determined to finally put his plan in place and kill Steelheart. But as he gets closer to his goal, he realizes that neither the Epics nor the Reckoners are all that they seem, and the line between good and evil is blurrier than he realizes.
I enjoyed Steelheart because it's a unique take on the classic superhero story, and is incredibly exciting and intense. This book gives a whole new meaning to the saying "Power corrupts and absolute power corrupts absolutely." The world of Steelheart is one that has no superhero. Instead, the people are forced to be their own saviors as they battle against inhuman villains. It really puts into perception the power of ordinary people, and how human nature can lead down dark paths. Steelheart has an intricate and action-filled plot that unfolds throughout the novel. I think the book was very engaging and twisty and left me intrigued. I've reread it a few times since, and it's always interesting!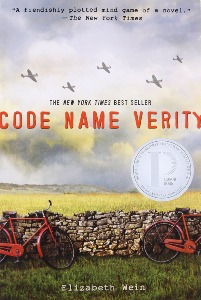 4. Code Name Verity by Elizabeth Wein
Code Name Verity is about a Verity, a British spy captured by the Nazis during WWII. Under pressure by her interrogators to give up sensitive information, she agrees to tell them everything she knows about the British war effort in exchange for time. As the story unfolds, Verity writes about the relationship between Maddie and herself, one, an intelligence agent, the other, a war pilot; how they began their unlikely friendship, ended up in Germany, and why she left Maddie in the burning wreckage of their plane. She trades secrets for time as she fights to escape from her captors and survive.
I really enjoyed this book because it was so unpredictable. The author did an excellent job of concealing information throughout the book, and it kept me interested. This novel was filled with tension as Verity endures weeks of torture and scribbles out her story under the threat of imminent death. Code Name Verity is an excellent example of true friendship and sacrifice, and the lesson of not judging others by who they seem to be.