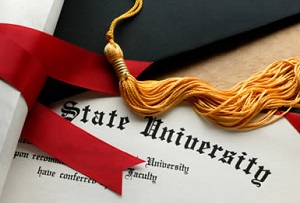 According to Danielle Douglas of The Washington Post, parents are relying more and more on their annual income to pay for their children's college educations.
A survey conducted by national financial company Sallie Mae revealed perhaps surprising results. In 2014, families with children in college spent an average of $24,164 on tuition and books, a 16 percent jump from the previous year and the highest jump since 2010.
The study further broke down this information by socio-economic class. Specifically, in the 2014-15 academic year, high-income families spent $33,260 on college, while families from middle-income backgrounds paid $21,375, and lower-income families expended $21,036. In this same year, spending for private four-year colleges went up 20 percent to $41,857, while the amount spent for public colleges increased 10 percent, to $23,189.
Most families of students who participated in the survey—62 percent—did not borrow money to pay for college in 2015. However, the student survey-takers themselves borrowed nearly three quarters of the total cost for their college education. Seventy-four percent of students surveyed worked through the school year to help cover the costs for college.
Raymond Quinlan, Chairman and CEO of Sallie Mae, said, "it's gratifying to see families are borrowing responsibly and making efforts to reduce costs," but he also implied that more parents need to plan ahead.
While 97 percent of families who completed the survey agreed that it's important to invest early, only 40 percent said they have a plan in place to pay for their children's college.
As Quinlan suggested, one way to make college more affordable is to have a financial plan at a young age over many years that helps you save money. It's also important to consider different options when it comes to loans and scholarships. Government loans, like Federal Stafford Loans, have lower interest rates and better repayment options, for example.
It is extremely important to reduce the stress of college and bank loans for parents and their college-bound students alike. The hassle of affording college should never keep one from seeking a higher education.
[Sources: Sallie Mae Press Release ; The Washington Post ]