Asia's Mighty Mekong River
by Alexis Zubia-Torres, age 11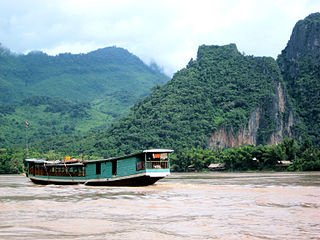 The Mekong River is one of the world's longest rivers and is an important resource and part of history for the people who live along its bank.
The Mekong River is 2,600 miles long and runs through six Asian countries. It begins in the highlands of Tibet and continues into Myanmar, Laos, Thailand, and Cambodia. It empties from the Mekong Delta into the South China Sea. The giant river carp, Mekong Freshwater Stingray, smooth-coated otter, and the Siamese Crocodile all live in the river. The endangered Irrawaddy Dolphin also lives in the Mekong River.
About 60 million people live in the Mekong River Basin. Many people rely on the river for their livelihood. Cambodians get 80 percent of their protein from fish caught in the river. The Vietnamese rely on the river to irrigate half of the crops grown in their country.
The Mekong River also has a rich cultural history. The Hmong are an important ethnic group in the Mekong River Basin. When the Vietnam War started many Hmong people helped the U.S. fight. When they lost the war, the Hmong wanted to protect their families. To do this they had to cross the Mekong River to find safety. However, the Mekong River was dangerous and the Hmong could only use inner tubes and bamboo sticks to cross. After they crossed the river, the Hmong arrived in Thailand and lived in refugee camps.
During the Vietnam War the U.S. made a promise to the Hmong; they agreed to offer a place for the Hmong to stay in the U.S. if they lost the Vietnam War. The U.S. ended up losing, so the Hmong immigrated to the United States.
Today, many Hmong are doing great in the U.S. They are practicing their Hmong culture, while growing up in American culture.
[Source: Simpson Street Free Press ]