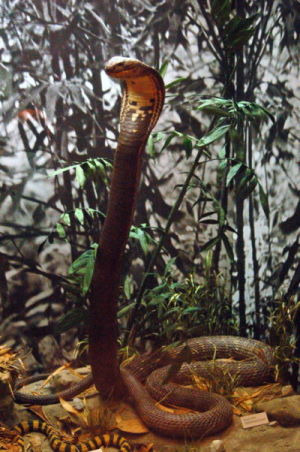 The King Cobra: Terror Slithers in the Heart of the Jungle
by Malaya Lawson, age 9
If you see a king cobra, you should probably run away! King cobras are able to raise their heads off the ground enabling them to look directly at an adult's eye. This isn't the only frightening fact about them, in fact, the king cobra's venom is so deadly that it can kill 20 people, or even an animal as big as an elephant with one bite.
Luckily for us, there are no king cobras in the United States. King cobras live in rainforests, rivers and plains of southeast Asia and in India and China. They usually eat other snakes, venomous and non-venomous alike.
These cobras are able to hear, but don't react to normal noises; they rely on ground vibrations for protection. They are very protective of their eggs and are the only snake species that builds a nest.
King cobras are an endangered species. They are protected in some countries including Vietnam where organizations are working to raise awareness about them. The Indian government has made it illegal to sell the king cobra and they even implant microchips in the snakes to alert when a snake is taken captive.
While the king cobra is a dangerous venomous snake, it is an important creature in various ecosystems in the world. It is important to understand ways these snakes can be protected to prevent their endangerment and possible extinction.
[Source: National Geographic ]