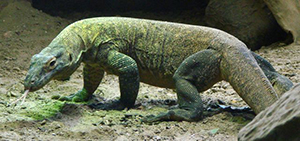 The Komodo dragon is one of the largest lizards in the world. With a mouthful of sharp, deadly teeth it can kill its victim in one bite.
A Komodo dragon's teeth have a toxic bacteria. Scientists believe that there is no antidote to cure people from the lethal effect of this poison. Sometimes, an animal attacked by this species may die almost immediately but, if it does not, it will slowly die from the effect of the toxin.
The Komodo dragon got its name from the island of Komodo. Years ago, when a plane crashed into the sea near Komodo, the pilot swam to shore and, after being rescued, returned home with a tale of large lizards. At first, many did not believe him, and people thought that the Komodo dragon was a mythical being. Now, it is thought that there are 4,000 or more Komodo dragons on the planet.
On average, a Komodo dragon weighs 220 pounds or more, depending on its last meal. A Komodo dragon's diet consists of deer, pig, goat, and other Komodo dragons, dead or alive. Sometimes, Komodo dragons even eat people. Because of this, the people who live on Komodo Island bury their dead deep in the ground so the dragons cannot get to them.
Komodo Dragons are dangerous and strong hunters. Like sharks they can smell blood. They are also very powerful swimmers and can run up to 12 miles per hour. The Komodo dragons' lifespan of a dragon is 50 or more years. If you ever see one, watch out!
[Source: Snake and Reptiles ]