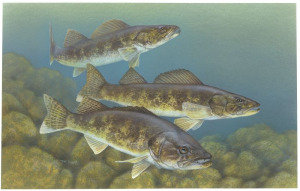 Wisconsin is known for many things including dairy and fishing. Walleye is a favorite fish of tourists to Wisconsin, but unfortunately these sought-after fish are currently at risk.
For 15 to 20 years now, fishermen in Wisconsin have expressed concern about the walleye fish populations, which has been decreasing due to low survival rate and poor hatches. Walleye are usually found in Lake Winnebago, Green Bay, the Wisconsin River, and the Turtle-Flambeau flowage, but the Department of Natural Resources is planning to repopulate walleye all over Wisconsin.
The issue eventually caught the attention to Governor Scott Walker who approved an action plan. He signed a law called the Wisconsin Walleye Initiative. In 2013, he provided $8.2 million for state hatchery infrastructure improvements to enable state, private, and tribal hatching to encourage growth for the walleye population. The initiative has helped increase the number of walleye in Wisconsin significantly—from 142,000 to 720,000 within three years, in fact. Now, the main goal is to fill all lakes in Wisconsin with walleye fish.
Despite the progress that has been made so far to re-populate walleye in Wisconsin, only time will tell if the success will continue.
[Source: dnr.wi.gov ]