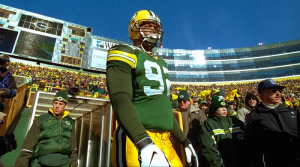 Reggie White is one of the best professional football players in the history of the National Football League. Because he was also a passionate Christian, he was known in Wisconsin as the "Minister of Defense." Reggie White was a committed and generous benefactor for his communities. He lifted up the reputation of the Green Bay Packers and helped create free agency as we know it today.
Reggie White's football journey started at the University of Tennessee, where he was recognized as an All-American player during his senior year of college. He became well-known for his outstanding play for the Philadelphia Eagles from 1985 to 1992, as well as helping to set in place true free agency for his fellow athletes.
Before free agency was created, players could only leave a team when the coaches were done with them and they were told to leave. In 1992, Reggie White and a group of players sued the National Football League for its "restricted free agency" system, which courts found disregarded antitrust laws. The players won the case and the NFL finally established complete free agency. Those policies remain in place today.
After the 1992 lawsuit, when their contract ended, players could play for any team in the league and choose the town they wanted to live in. Due to it being a small-town with not much diversity and lots of cold weather, few players at the time wanted to play in Green Bay. This made fielding a competitive NFL team in small-town Wisconsin difficult.
"At the time, a lot of guys would say, 'If Green Bay drafts me, I don't want to go.' It was Siberia," said Keith Jackson, former NFL tight end and a teammate of Reggie White in Philadelphia and Green Bay. "But Reggie White saw something different about it."
Whether it was coach Mike Holmgren or defensive coordinator Ray Rhodes who convinced him, Reggie White decided to come play for the Packers in Wisconsin. White was a dynamic and successful defensive player and part of six All-Pro teams. All-Pro is a title given to players who are the best at their position during a specific season. Essentially what all this means is that White was one of the best and most sought-after players in the league at that time.
He chose Green Bay and changed football history.
"I think it blew everybody's mind that he would come to Green Bay. It set the tone. He was the premier guy, and it turned the tables to where guys didn't just run to the big market." said Greg Blache, retired defensive line coach.
Reggie White signed a four-year contract for $17 million dollars with the Green Bay Packers. Shortly after, he helped recruit other players to join the team. Before White's arrival in Green Bay, many players didn't even consider the Packers. They hadn't been Super Bowl contenders since the Vince Lombardi era of the 1960s.
But White saw great potential in that young, up-and-coming Packers team. He thought they had much to offer and, more than anything else, White wanted to win. So, he worked to change perspectives about the team and set a positive tone.
It worked. White dominated on defense and led his team to many victories. He was an inspiration to fans and players, especially by being a mentor to young people, a voice for racial equality, and by being an ordained minister—earning his famous nickname "Minister of Defense." The pinnacle came in 1996 when the Green Bay Packers won the won the Super Bowl and brought the Lombardi Trophy home to Green Bay.
But long before that Super Bowl victory, Reggie White had made his mark in Wisconsin history. He was immediately embraced in Green Bay and across the state. He quickly became beloved by football fans and non-football fans alike. White's reputation grew as he lived year-around in Green Bay and engaged the community in many positive ways. He was outspoken and often quoted.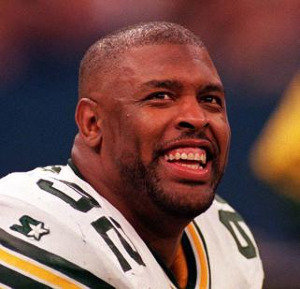 Among White's favorite topics were concepts like forgiveness and understanding. His status as a Wisconsin icon was no longer just about the reputation of the team or players previously not wanting to join the Packers. Green Bay is a predominantly white town. It was said that if you were black in Green Bay, you probably played football. While Reggie White didn't think the people were racist, he acknowledged a lack of community members of color made some players feel out of place. He talked openly and honestly about race.
"They don't know how to cut a fade with a No. 2, and they don't know how to make fried chicken and cornbread. Where's the black history museum? Where's Chinatown? They didn't have any of that, but they embraced you and they wanted to win." said Sean Jones, who played defensive end for the team.
In response to the feeling of isolation some his fellow black teammates experienced, White organized things like barbers coming to give them haircuts, team soul-food dinners, bible studies and team bonding outings. According to his teammate, Sean Jones, White was instrumental among players around the league who regularly discussed ways to use their voices to promote racial equality in their communities.
White's candor and stature caused a chain reaction throughout the NFL that influenced African-American players to take opportunities similar to how he decided to play for Green Bay. It is White's sometimes less-discussed legacy: he helped persuade a generation of black NFL players to evaluate their own biases and step out of their comfort zones.
Reggie White passed away in his sleep in December 2004; he was 43 years old. His memory and legacy still live on. He is remembered as a pivotal community builder, one of the greatest defensive players in the football history and the leader of the Packers team that won the Super Bowl in 1996. There is no doubt that Wisconsin is forever indebted to Reggie White for making Green Bay "cool."
[Sources: Sports Illustrated ; The Atlantic ]