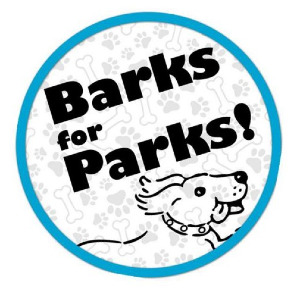 Barks for Parks is an annual fundraiser for Dane County's dog parks. Dane County is one of the first places in the United States to have designated off-leash areas for dogs and has been used as a model for other systems across the country. Barks for Parks raises money for upgrades, expansion, and special projects in Dane County's dog parks. The event is a day-long celebration filled with music, food, and fun.
In 1992, the Dane County Park Commission established a Dog Advisory Committee to deal with the rising issue of off-leash dogs in parks. Many pet owners would release their dogs to exercise: this caused problems with other park-goers. Faced with this concern, the Dog Advisory Committee proposed setting aside "pet exercise areas" within existing parks, since officials disapproved of setting aside land exclusively for dogs. Eventually, the name was changed to "dog parks."
At this time there were little to no reserved places for dogs nationally. Only three other places in America had recognized dog parks; two were private parks, and one was a section of a baseball field set aside for dogs. Thus, Dane County became one of the first in America to create a dog park program.
Many issues plagued the newly created exercise areas, however. For one, there was no way to separate the human park-goers from the dogs. At first, natural barriers and signs were used, but they quickly proved inadequate. Park-goers often ignored the signs reserving space for dogs, and dogs could not be contained by the natural barriers. This led to the creation of separate dog parks.
Another issue Dane County faced was making guidelines and regulations for the dog parks. Since there had been no dog parks before, everything had to be created from scratch. This included creating waste disposal systems, dog etiquette guides, signage and more. Eventually, Dane County created a Dog Exercise Area Development Guide , which has been shared with many parks around the nation and is the basis for many other dog parks. Today, dog parks are a staple of everyday life in many states.
The first Barks for Parks fundraiser was held in 2017 on the 25th anniversary of the creation of Dane County dog parks and raised over $7,600. The money contributed to a shade sail at Capital Springs Dog Park. This year, the fundraiser will take place on Saturday, August 25, at the Wisconsin Brewing Company (Wisconsin Brewing Company, Verona 1079 American Way, Verona, Wisconsin 53593) from 12:00 to 4:00 pm. The event will feature live music from Down From the Hills and food and entertainment for dogs and humans alike. Owners are encouraged to bring their dogs, as long as they comply with the Barks for Parks Dog Rules. The suggested donation for admission is five dollars. All profits from the fundraiser will support Dane County dog parks.
To learn more on how you can support our dog parks at Barks for Parks, visit the Barks for Parks website at: www.danecountyparks.com/barks4parks .
SSFP staff and students hope to see you there!