Freedom of the Press Advocates Mobilize in
Countries Around the World.
by Josepha Da Costa, age 16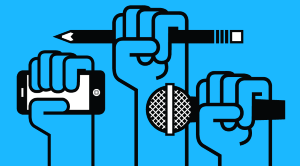 Egyptian authorities have released two journalists who spent more than a year in pre-trial detention. Defense attorneys told Associated Press reporters that Solafa Magdy and her husband Hossam el-Sayyad are staying with family members at their home in Cairo. Magdy is a multimedia reporter and el-Sayyad is a photographer.
Egyptian government officials are investigating whether the two journalists misused social media platforms, disseminated false news, or joined an outlawed group, according to the couple's lawyer Khaled Ali.
The Egyptian government has drawn criticism in recent years for its wide-scale suppression of dissent. Thousands of people, mainly Islamists but also well-known secular activists, have been jailed.
The Egyptian government also targets journalists. Some foreign journalists have been expelled and dozens of local reporters have been imprisoned. Egypt, along with countries like Turkey and China, are among the world's worst jailers, according to reports by the Committee to Protect Journalists.
In the fall of 2020, Magdy was number one on One Free Press Coalition's "10 Most Urgent List". This list calls attention to journalists whose voices are muted or whose work is censored. One Free Press often steps in when news is being suppressed and amplifies calls for justice when press freedoms come under attack. A new list is published every month and features both new and recurring names. Magdy first appeared on the list in July of last year and was on the list several times before her release last month.
The One Free Press Coalition works in countries around the world to draw attention to high-profile and urgent press freedom cases. According to the organization's website #OneFreePress uses the collective audiences of member organizations to stand up for journalists under attack for pursuing the truth worldwide.
In detainment, these journalists often endure harsh conditions, medical neglect and high risk of contracting Covid-19. Human rights reporters and journalists have been the most targeted. More than half of the journalists jailed had been covering human rights violations. Since 1992, 306 journalists reporting on human rights have been killed.
This month's list includes journalists from Brazil, Mozambique, Iran, and Vietnam. Recurring names on the updated list include Ibraimo Abú Mbaruco, Kasra Nouri, Pham Chi Dung, and Daria Komarova. To read more about these courageous journalists and the "10 Most Urgent" List, visit the One Free Press Coalition website .
[Sources: Associated Press ; Forbes.com; One Free Press; Committee to Protect Journalists ]