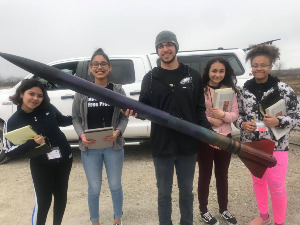 Again this year student reporters from Simpson Street Free Press will attend the nation's largest High-Powered Rocket Competition for Native American college students.
The public is welcome at this event, which is hosted by Wisconsin Space Grant Consortium. The rocket launch will take place on Saturday, April 27 at Richard Bong Recreational Area in Kansasville, WI.
A total of 15 teams from 11 states began gathering on April 15 at Carthage College in Kenosha. These teams of college students present their rocket design projects and participate in motor and launch pad preparation workshops. They prepare to launch their high-powered rockets at the event later this month.
Among the teams returning to the rocket competition this year is will be Wisconsin's College of Menominee Nation from Keshena, WI and Lac Courte Oreilles Ojibwa Community College from Chief Lake, WI. Some of the rocket teams will later visit launch facilities at NASA's Kennedy Space Center.
Simpson Street students have seen it up close. This event is very cool. And the event free, although you do have to buy a parking pass when you get to the park. The launch starts at about 8 in morning and goes until 3pm on Saturday, April 27.
We will be there. But if you can't make it, watch for live coverage on the Simpson Street Free Press facebook and twitter feeds.
[Sources: Carthage College ; Wisconsin Space Grant Consortium ]