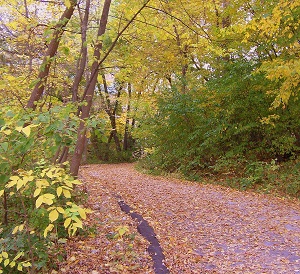 Last Tuesday, we sat down with Seth Ebel, a thirty-something civil engineer at the Dane County Land and Water Resources Department. He has the air of a pragmatic idealist: passionate and motivated, yet down-to-earth and committed.
Born and raised nearby in Jefferson, Wisconsin, Ebel spent his childhood exploring the Wisconsin wilderness. An avid football player, he received a scholarship to play for Michigan Technological University where he graduated with a degree in civil engineering. In his free time he loves hunting, fishing, and spending time with his wife and three kids.
Ebel's work combines creative problem solving with methodical logic. No day is the same, and his work consists of anything from conducting topographic surveys to designing systems for farms and wetlands to working directly with farmers and landowners. He was excited to share with us the details of his career.
What's your job description?
SE: The way I describe it to my kids is that I work with farmers to keep manure and other waste associated with farming out of rivers and streams. So, I'll do the engineering work that is required, typically structural practices like water conveyance and manure storage, that is needed to help keep farms from polluting our surface and groundwater.
Have there been any recent projects that you've found particularly interesting?
SE: There's been a few. We typically work with the private sector on manure storage projects. They do the design work, I'll review it. We've had a few recently that are proposing more complex manure management systems, and that's typically because of the size of the dairy herds. It was very common 30 years ago to have 30, 40, or 50 cows on a farm, and now it is very common to have 500 cows. They're becoming a lot bigger, and to manage the enormous amount of manure that those facilities produce makes people more innovative. So, it ends up being a very complex process: pumps, pipes, other processes to filter out particulate from manure to make it more manageable.
Specific projects that I really enjoy working on are wetland restoration projects. We did one for a farmer down in Stoughton last year. It was a wetland that had been filled and then farmed. Basically we removed a lot of fill from that field and tried to restore the hydrology, or the way the water flows into the system, and plant native plants back into it to make it revert to a wetland.
What made you decide to work in an environmental field?
SE: Engineering, civil engineering in particular, isn't necessarily an environmental field. I always had a bit more of an environmental emphasis when I was going into school but I kind of got lucky in finding a job working in land conservation. Before that, I was working for the Department of Transportation over in Michigan doing road building work. Twelve years ago, I found a job working for Chippewa County that happened to be in land conservation and have been very happy working in this field since.
What is your driving force for protecting the environment?
SE: I've never been asked that question. I suppose it really comes from my enjoyment of the outdoors. I grew up spending a lot of time in a canoe, floating down a river. I really enjoy some of the natural landscapes we have in Wisconsin, and I don't think they should be exploited for economic gain. There's a degree of exploitation that is necessary for all of us to enjoy the lifestyle that we do, but I like to be aware of when we're exploiting that resource so that we can make an informed decision about it. It's that drive to make sure people understand what kinds of impacts agriculture, urban development, me driving my car into work today, have on society as a whole. I think there's a lot that people don't understand especially about agricultural development and the impacts that that has. So that's why I try to do what I do.
What are your hopes for sustainability in the future?
SE: My ultimate hope is that people actually look to understand sustainability. There's short-term sustainability that people can understand, but the longer-term sustainability is often overlooked. What we're doing right now is exploiting those short-term, cheap resources. When it gets down to it, some nonrenewable resources are being exhausted for short-term gain, like soil, which is a big concern for our department.
I would like to see people to have a better understanding of the total life cycle cost of renewable and nonrenewable resources. That would be my hope. I would like to see the cost of phosphorus pollution in our lakes and streams be tied all the way back to how much people pay for food, because it's all connected.
What advice do you have for young people interested in going into an environmental field?
SE: Stick to your principles. Be committed to the reason you got into conservation, environmental sciences, or your chosen field. They'll be plenty of opportunities to lose your way, but be committed to your principles. Sometimes you might have to compromise, but know when you're compromising.
[Source: Seth Ebel, Civil Engineer at Dane County Land and Water Resources Department ]