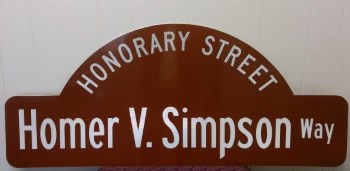 Simpson Street, the road on which Simpson Street Free Press was established, was once a corn field and the Royal Airport. The area around Antler's Tavern—a beloved institution—has been through many challenges, but it's always had a strong sense of community.
So how did the Simpson Street neighborhood come to earn its name? The story begins with an unassuming man named Homer V. Simpson—not the iconic cartoon character many know and love—but a local business owner, legend in the Madison area, and father to Sharon Simpson, now Sharon Nelson, and Homer Virgil Simpson II.
The late Mr. Simpson was born on August 11, 1901 in Wayne County, Illinois. He and his brother, Frank, moved to Wisconsin in the mid 1920's to work for Mendota Mental Health. When World War One broke out, Simpson attempted to enlist in the Army. After being denied because of his poor eyesight, Simpson and his brother began to work for Badger Ordnance.
At the time, Simpson was well known for his gambling skill. In fact, he won half of Antler's Tavern and a large sum in a poker game. With his winnings, Simpson bought land near the West Broadway bar, a different establishment nearby Antler's Tavern. According to his daughter, Simpson was later recognized for donating the rest of his prize money to the City of Madison.
"The tavern was born and built in 1934," said Nelson of Antler's Tavern. Eighty-three years later, the bar is still located on 2202 W. Broadway.
Simpson died in 1965 when his son was only 10-years-old. Today, Simpson II continues his father's legacy as owner of Antler's Tavern, which he has now supervised for over 40 years. The establishment now includes a modern bar and pool tables.
The neighborhood surrounding the Tavern was originally named Broadway-Simpson. In the 1990's, it was known for crooked crimes and drug distribution. Because of this, and in a kind of re-branding effort, the City of Madison changed its name to Lake Point Drive.
Later, to honor the memory of Simpson, an honorary street sign was built at the corner of Hoboken Road and Lake Point Drive in his name. The construction of the sign was advocated for in large part by Diane Small, a longtime resident and influencer in the neighborhood.
Years ago, Small decided to organize an annual reunion to bring the community together. The first reunion was held in 2010. That year, Smalls started a petition at the reunion to re-change the Lake Point Drive name to Simpson Street. Despite significant improvement in the neighborhood, the City has yet to make the change.
This year, the Simpson Street reunion will be held on Saturday, August 19 at the Dream Park in Monona. Thanks to Small, the reunion is a wonderful opportunity for area families to reconnect, honor Simpson, and reminisce about past times on original Simpson Street Free Press. Staff and students look forward to the reunion, and we hope to see many of our readers there!