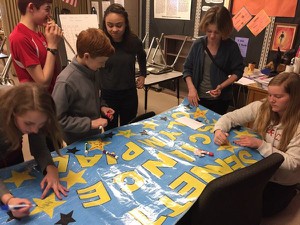 Twelve students from Sennett Middle School recently traveled to the State Science Olympiad Competition at the University of Wisconsin-Stout. Sennett Free Press student reporter Savanah Shadof was among the 12.
Sennett Olympiad students practiced lab skills and studied a variety of science subjects for months in preparation. The team placed 10th at the Regional Competition in Oshkosh this February, an excellent ranking among the 36 middle school groups competing.
At the State tournament, students were tested in 23 events. The Sennett team performed among the top 15 teams present. Hamilton Middle School, who ranked first, won the opportunity to participate at the National Tournament later this May.
Free Press staff and students are very proud of Savanah and the rest of the Sennett team for their hard work and dedication. These bright students serve as an excellent example of academic achievement in South Madison.
[source: Sennett Middle School Newsletter ]