Tragic Shipwreck Found 100 Years Later Under Lake Superior
by Jules Da Costa, age 13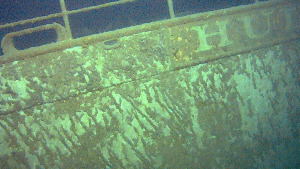 There's something about stories of shipwrecks that appeals to the adventurous spirit in all of us. Jerry Eliason and Kraig Smith are actual shipwreck hunters who uncover and investigate the many shipwrecks that have occurred in Lake Superior, one of the five Great Lakes, located on the northern edge of Wisconsin.
Smith and Eliason have been involved with numerous shipwreck discoveries for years. One of the shipwrecks they found was the 288-foot-long Hudson, built in 1888. On September 15, 1901 the Hudson was carrying a load of wheat and flax. At one point in its journey, soon after it passed the Apostle Islands, a gale kicked up. The next day lighthouse keepers close to the ship claimed they saw a "sizeable twin-stacked steamer dead in the water, listing badly. The unidentified steamer suddenly rolled over and sank."
Three days later, on September 18, 1901 the News Tribune reported there was no clue as to where the ship was. On the next day, the newspaper reported that because there was no sign of wreckage, the report that the ship sank was probably a mistake. But on September 20, news reports made it clear that there had been no mistake. A fishing boat had found wreckage matching the Hudson. Over the course of the next few days, more wreckage turned up, including bodies of the crew.
Before the search of the Hudson, Smith and Eliason pinpointed possible locations. They weren't just looking for the Hudson, but also the Sunbeam and the S.R. Kirby, which were other ships that had also disappeared in the lake. After many trips to possible locations, they lucked out when their cameras picked up a large, mostly intact ship 800 feet below the surface. They knew it was the Hudson because part of the ship's name was still on the hull.
Currently, the Hudson is tied with another ship for the second-deepest wrecks located in the Great Lakes. Eliason and Smith are also credited with the discovery of the Scotiadoc in Thunder Bay, Ontario which had sunk 870 feet below the surface. Eliason and Smith hope to retrieve footage of the Hudson and continue their search for other shipwrecks.
[Sources: Chicago Tribune ; Minnesota Public Radio ]