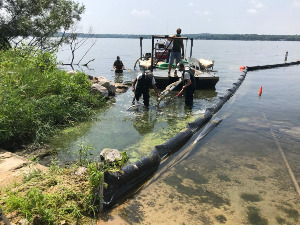 Dane County is testing a new technology designed to clean out algae blooms local lakes. Strange as it might sound, this new technology actually uses a vacuum to remove hazardous blue-green algae blooms located near Dane County's beaches.
Blue-green algae blooms are harmful to people. Exposure to this kind of algae can cause health concerns for both humans and pets. This new effort intends to make our local beaches clean and safe to swim in during warm temperatures.
This vacuum device cleans our local waters by connecting a pipe to a vacuum nozzle, which pulls out the algae scum from the water and puts it in filter bags. It then separates the clean water from the algae scum and releases the clean water back into the lake. Meanwhile, the algae scum and debris stay inside the filter bags.
"This new technology will allow families to have a safe and fun time at the beach, without having to worry about water quality. Projects like this are an extension of our equity work — providing safe, free fun across our community and encouraging kids to get outside." said Dane County Executive, Joe Parisi.
"As the summer heats up and the COVID-19 pandemic continues, Dane County residents are turning to our lakes to cool down and reconnect with the outdoors," Parisi said in a statement.
According to a recent article in the Wisconsin State Journal , Mendota County Park has been chosen as a pilot area for this project. The plan is to expand this new method throughout the Dane County.
Parisi and other Dane County officials have stressed how important it is to have clean beaches and healthy local lakes. Past efforts have focused on algae control, implementing projects that would eliminate sources of phosphorus, which cause algae blooms.
Other efforts to clean and mange area lakes have been effective to a degree. But they are not 100 percent successful. For instance, Dane County has expanded its "blue waters barge" program. This initiative picks up trash and debris from stormwater outlets, public beaches, and piers. The hope is that this new algae vacuum system will be another effective tool to help keep our local lakes and beaches safe and accessible.
"As far as we know, we are the first county to use this type of system," Parisi says. Dane County officials say they are eager to share this technology with other interested communities.
[Sources: Wisconsin State Journal ; Spectrum News; Madison.com ]