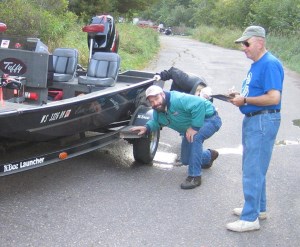 For many Wisconsinites, summer means enjoying the thousands of lakes sprinkled across the state. However, the spread of invasive species can heavily damage these waterways, and even endanger visitors.
Recently, for the first time ever, the Dane County Land and Water Resources Department held an Aquatic Invasive Species Landing Blitz, a workshop designed to teach concerned citizens how to become volunteer invasive species educators at boat landings. The workshop started with a brief training followed by a practice in educating boaters on invasive species at boat landings in Marshall Park, Olin-Turville Park, and Fish Camp County Park. During the blitz, volunteers talked to 140 boaters.
Susan Sandford, Strategic Engagement Coordinator at the Dane County Office of Lakes and Watersheds and Landing Blitz facilitator was pleased with the response from boaters.
"In general, boaters are very responsive to talking with Clean Boats, Clean Waters staff. Many of them are already aware of aquatic invasive species and recognize the importance of preventing their spread. With many of the aquatic invasives species, transporting a single individual, or for plants only a small piece of plant, can spread the population to a new waterway so it is very important that we continue emphasizing this message and educating the public," said Sandford.
The purpose of educating boaters is to stop the problems caused by invasive species at their root. Boats are the most common culprit when it comes to the spread of aquatic invasives. Invasive organisms cling to hulls, sit in the water collected in ballast basins and livewells and when the boats enter new waterways, they can be released and start spreading rapidly. Often these invasives pose a threat to natural ecosystems as many have no known predators.
The key steps to prevent the spread of aquatic invasives are to inspect boats, remove plants, drain all water from boats and equipment, and never move plants or live fish away from a waterbody. These actions can help prevent the spread of harmful species such as Eurasian water-milfoil, curly-leaf pondweed, purple loosestrife, rusty crayfish, spiny water fleas, and zebra mussels which have already caused damage to Dane County lakes as well as silver carp, hydrilla and quagga mussel which have not yet been introduced.
If you are a concerned citizen who wasn't able to make it to the blitz, Sandford says it is not too late.
"If they are water-users, they can make sure they are following the prevention steps, cleaning off and draining all of their equipment to make sure they aren't spreading invasives to new areas. They can also reach out to us, letting us know they are interested in becoming a Clean Boats, Clean Waters volunteer by emailing lakes@countyofdane.com. We also have a number of other volunteer opportunities posted on www.takeastake.org ," said Sandford.