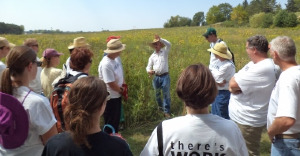 The Dane County Land and Water Resources Department works hard to preserve and reinforce Dane County's historic, natural, and cultural resources. The Parks division manages over 12,000 acres of park lands in Dane County as well as hosts events such as yoga, Lil' Explorers, and festivals. If you are interested in getting more involved with Dane County Parks there are volunteer opportunities that range from helping to maintain the parks to monitoring the animals that live within them. You can also join a Friends group that adopts and helps take care of a specific park. Dane County Parks is always looking for volunteers to help lead walks, fundraise, and more.
There are an abundance of opportunities available to visit and enjoy Dane County Parks as a guest. However, if you are interested in volunteering, Dane County Parks has volunteer opportunities where you can help restore parks by removing invasive species and collecting native seeds for planting. If you want to help maintain our lovely parks, rather than just looking, visiting the Dane County Parks events page is a great place to start.
In addition to one-time volunteer opportunities, you can also get more involved by joining a parks friend's group. A friends group is a non-profit 501(c)(3) organization whose members have an interest in Dane County's natural resources and volunteer their time, services, and support to enhances Dane County Parks. Friends Groups plan and help with special events, raise money to purchase playground equipment, interpretive displays, signs, and shelters. They also assist with the construction and maintenance of trails, shelters, accessible cabins, birdhouses and habitat. Parks with Friends Groups include Indian Lake County Park, Lake View Hill Park, Pheasant Branch Conservancy, Silverwood County Park, and Schumacher Farm.
Friends of Schumacher Farm helps young and old connect with nature by offering several fun and educational programs. Prairie Restoration is a program where people can learn how to preserve native prairies and expand the oak savanna woodlands. Chicken Wranglers is a program where participants take care of chickens and, as a reward, they are able to harvest and keep the eggs. Heirloom Garden is a vegetable garden that features a strawberry patch, grape vines, rhubarb, asparagus, raspberry, and currant bushes. No herbicides or pesticides are used in this garden.
Friends of Indian Lake is a non-profit organization that is well known for its Indian Lake Trail Run that they host every year around October. Indian Lake is one of Dane County's largest parks at 483 acres. For more info about this year's event, visit the Friends of Indian Lake website .
If you find you really enjoy helping our parks, consider becoming a lead volunteer. It's a great way to further engage with the parks Lead volunteers are in charge of many things, from monitoring the trails to fundraising and photography. They also help lead many of the activities hosted by the Parks Department. The Department welcomes everyone: maybe you are a newcomer with time to spare, or you have special skills to help with activities. Anything you bring to the volunteer program is greatly appreciated and will be put to use.
There are many ways to help out in the parks system, and every volunteer makes a huge impact on maintaining park environments. You can start by participating in a one-time volunteer opportunity and see if you are interested in becoming more involved as a the parks programs, becoming a lead volunteer or by joining a Friends group. If something requiring less of a commitment is more suitable for you, sign up for parks newsletters , which provide info about events offered in the parks, as well as educational information about how you can protect local lands and waters By simply putting their time into parks they love, volunteers save the Dane County Parks Department about $300,000 annually.
Visit the Dane County Parks volunteer page to learn more about how you can get involved!
[Sources: WI DNR ; Dane County; Madison.com ]