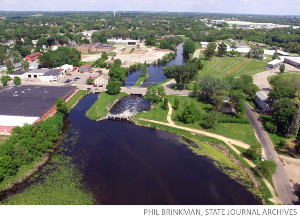 The city of Stoughton is thinking about removing their dam on the Yahara River for a redesign project of the riverfront. The goal is to make it cleaner, safer, more attractive, and may also include a whitewater paddling feature.
The dam that is located west of South Fourth Street was originally built in 1916 and restored in 2009.
Dan Glynn, Stoughton's parks and recreation director, said the conceptual design of the project has changed after a steering committee recommended removing the dam, which has stood in the stretch of the river south of downtown for more than 100 years. Glynn also mentioned that the removal is being recommended because a paddler got stuck under the dam, but survived. "The public safety aspect really drives a lot of the decision-making going forward," he added.
If the dam were to be accepted for removal, the water level of a millpond behind it could drop at least three feet, Glynn said. This would expose sediment that has been found to be contaminated with petroleum, heavy metals and other like substances, mainly from a former foundry. This can be cleaned up by restoring the river back to its original path.
Glynn said the engineering and design work involved in removing the dam could happen in 2021 with the actual finishing of the project in 2022. The Stoughton City Council is supposed to decide by this spring whether to take out the dam or keep it as it is.
Because of the dam, next year the area could possibly start to see changes downstream which would include installation of trails and a pedestrian bridge over the Yahara River. The whitewater feature is initially planned for 2022. "Overall, the total amount for this project is about three million," Glynn added.
Stoughton has and will apply for many more grants through the state Department of Natural Resources (DNR), including for removing the dam and making the river improvement, said Glynn. The estimated amount of the removal of the dam came in at $576,000. A grant program through the DNR pays for $400,000 for taking out dams. He said the city would also look to do private fundraising for this project.
Developer Curt Brink said he's in talks with the Stoughton Redevelopment Authority for an apartment project in the area along the river. He was mum on the details because the project is in negotiation. Brink said improvement to the river and adjacent private development could be mutually beneficial.
[Sources: madison.com ; Wisconsin State Journal; City of Stoughton ]