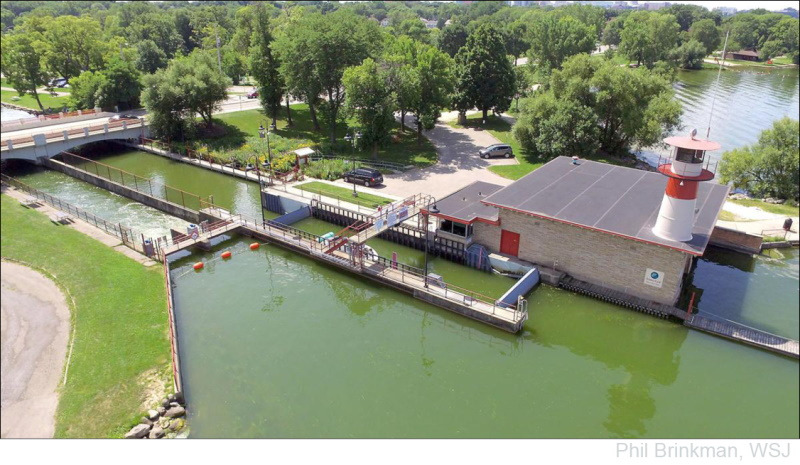 The 150 Year History of the Tenney Park Lock and Dam
by Desteny Alvarez, age 15
The Tenney Park Lock and Dam is located on the eastern shore of Lake Mendota along Sherman Avenue. It is between the City of Madison's Filene Park and Tenney Beach. It is the largest of three boat locks on the Yahara River.
The first dam near this location was built in 1847 as a mill and brewery. It was subsequently destroyed in 1866 by a severe thunderstorm. The city bought the current site in 1896 and also made the first lock. They remodeled the lock to allow shallow drafting boats to move between Lake Mendota and Lake Monona through a channel of the Yahara River.
Years later, in 1958, the locks and the dam were rebuilt to provide safety improvements and better navigational access between Madison's two largest lakes. These improvements helped control the water levels of both lakes.
The Tenney Park Lock and Dam site has been managed by the Dane County Land & Water Resources Department since 1981. The Dam controls outflow from Lake Mendota and the locks connect Lake Mendota to Lake Monona. The water level of Lake Mendota is maintained 5 feet above the water level of Lake Monona. The lock and dam connection between the two lakes allows boat travelers to move down the Yahara River and into Lake Monona, so the structures serve multiple purposes.
In August of 2018, heavy and sustained rain caused Lake Mendota to rise to dangerous levels. More rain was predicted, so water levels in Lake Mendota had to be brought down. Madison's biggest lake simply needed more room.
"If this isn't done, the dam at Tenney would almost certainly be compromised," Madison spokeswoman Katie Crawley said at the time. "Failure of the dam would cause devastating flooding along the Yahara River, in the Isthmus and the lands surrounding Lake Monona."
While flooding did occur in the isthmus area of Madison, further disaster was avoided by increasing the outflow of Lake Mendota. Nonetheless, the events of 2018 renewed public understanding of why the locks and dam at Tenney Park are important.
Since 1955 the Tenney Park Lock and Dam have been designated a City of Madison Landmark and the site is on the National Register of Historic Places.
[Sources: Dane County Parks ; FOX 47 News; channel3000; Wisconsin State Journal ]